Chalk Talk
The boys prelims go largely chalk and the Mr/Miss Basketball semifinalists are announced.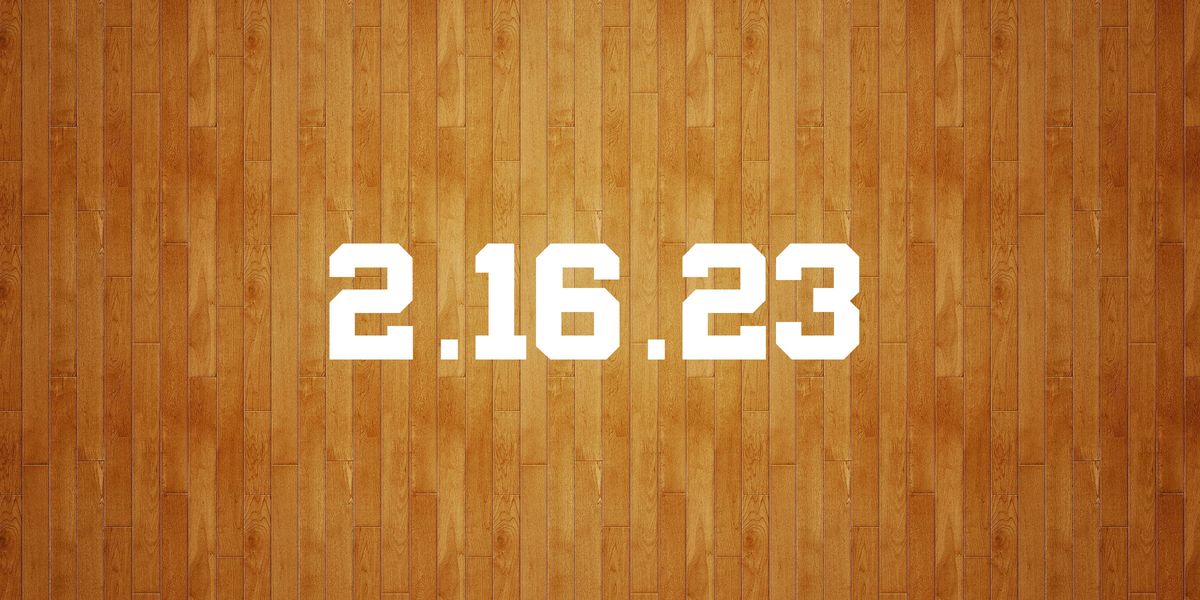 It was a quiet night around the state as we worked through the boys prelims.
For a bit, it looked like we might have a classic 5/12 upset, NCAA-style. #12 MDI led by 8 at the half, but Foxcroft figured it out in the second half to punch a ticket to Bangor.
After Tuesday's fireworks, we were all hyped up for some prelim chaos, but it went mostly chalk. The higher seeds on the boys side went 14-1 last night, with the sole upset coming from #10 Traip over #7 Boothbay. Ben Hawkes had 19 for Traip in the win. They'll face #2 Monmouth in the quarterfinals.
Only two games ended in a 2-possession margin of victory and both were in B North. Up in the County, #7 Presque Isle beat #10 Bucksport by 5 and #8 Washington Academy beat a Mount View team by 3 that they had lost to by 37 back in December. That's a long bus ride home.
There was also a seeding upset in Girls B South. #10 York blew out #7 Leavitt, but as I wrote yesterday, that result was expected. It's really a shame for Leavitt. After only winning 1 game last year, they started the year 5-1 and full of promise, but injuries can be cruel.
Elsewhere...
Joel Gehrke exploded for 29 points and Luke Carey had a double-double (25 points and 10 assists) as #6 Carrabec took care of #11 St. Dom's...Callan Franzose went for 25 & 10 for Madison...Cam Grey's 25 for Mount Abram overcame 28 from Hall-Dale's TJ Wilson...Bella McLaughlin (sorry, Miss Basketball Semifinalist Bella McLaughlin) had 21 in Hampden's quarterfinal victory over Windham.
---
Every year, I do a long post in which I go through the state, region-by-region, and pick against the favorite. Anyone can pick chalk, so it's an exercise in trying to figure out where the upsets might come from. Sometimes I'm right. Sometimes my pick gets blown out in the first round. I don't do nearly as well as the Model does.
This year, since I'm no longer anonymous, I can do stuff like this on video and this seemed like a good bit of content to do as a test.
I'm a little out of practice.
Anyway, depending on how this goes over, I'll either do more of it or abandon it completely.
As the kids say, smash that subscribe button!
---
We have another contender for Parent of the Year at the prelim girls game at Foxcroft Academy on Tuesday night.
Super classy, dude.
Thanks to Marc at Eastern Maine Sports for sending the video over.
---
The Mr. and Miss Maine Basketball semifinalist lists are out. Congratulations to everyone who made the list.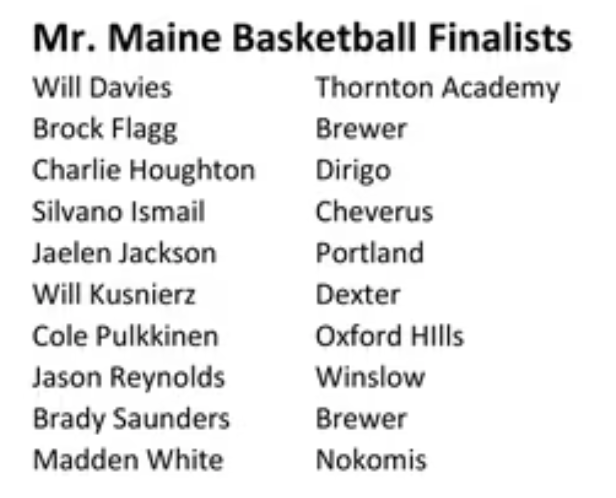 At a glance, this seems about right. Nothing jumps out as a major omission. There are, however, some issues. Jaelen Jackson obviously plays for South Portland and these are the semifinalists and not the finalists and an earlier version of the awards had GNG in B South, but other than all of that, everything is fine. Details, right?
The Miss Maine Basketball award is pretty much settled, but Mr. Basketball feels as wide-open as it's been in a long time? Maybe that's because Cooper and JP Estrella were such big stories last year or maybe it's just a testament to how much talent is in the state right now. But either way you could probably talk me into at least 5 of these people winning the whole thing.
---
Speaking of which, get your players in for All-State consideration!
---
The prelims are all done and the proper start of the tournament is Friday, but that doesn't mean there aren't games today. Because there's AA quarterfinal games. Not all of them, because that would make too much sense. But some of them. There's no rhyme or reason to it.
Hopefully this will be the last year of the AA experiment, but if we're going to continue, can we put all the AA quarterfinal games on the same day? Thursday would be perfect. It's a little weird to have AA quarterfinal games happening at the same time as C South prelim games and, honestly, unnecessary. Give those prelim teams their moment in the spotlight. They deserve it. They actually all earned that spot.

Very few of these AA quarterfinal matchups look very good on paper because, well, when you only have 8 teams in a region, your quarterfinals are going to suck. Maybe you'll get lucky and get an upset, but more likely not.
AA North is a good example. There's only 9 teams in the region, but 8 go to the playoffs. If you go solely on Heal Points, only 5 AA North teams would have made the tournament in "full" regions like A South and B South. Edward Little would be the 11 seed in B North and the 12 in C South.
So this shouldn't be all that close, except Edward Little actually swept the season series with Lewiston, winning 61-59 on December 15th and 42-41 on February 9th. There's the old saying that it's hard to beat a team 3 times, which is generally nonsense, but it is really hard to beat a team 3 times that's a double-digit favorite over you.
If Edward Little can get the trifecta, they'll get the winner of Portland and Windham.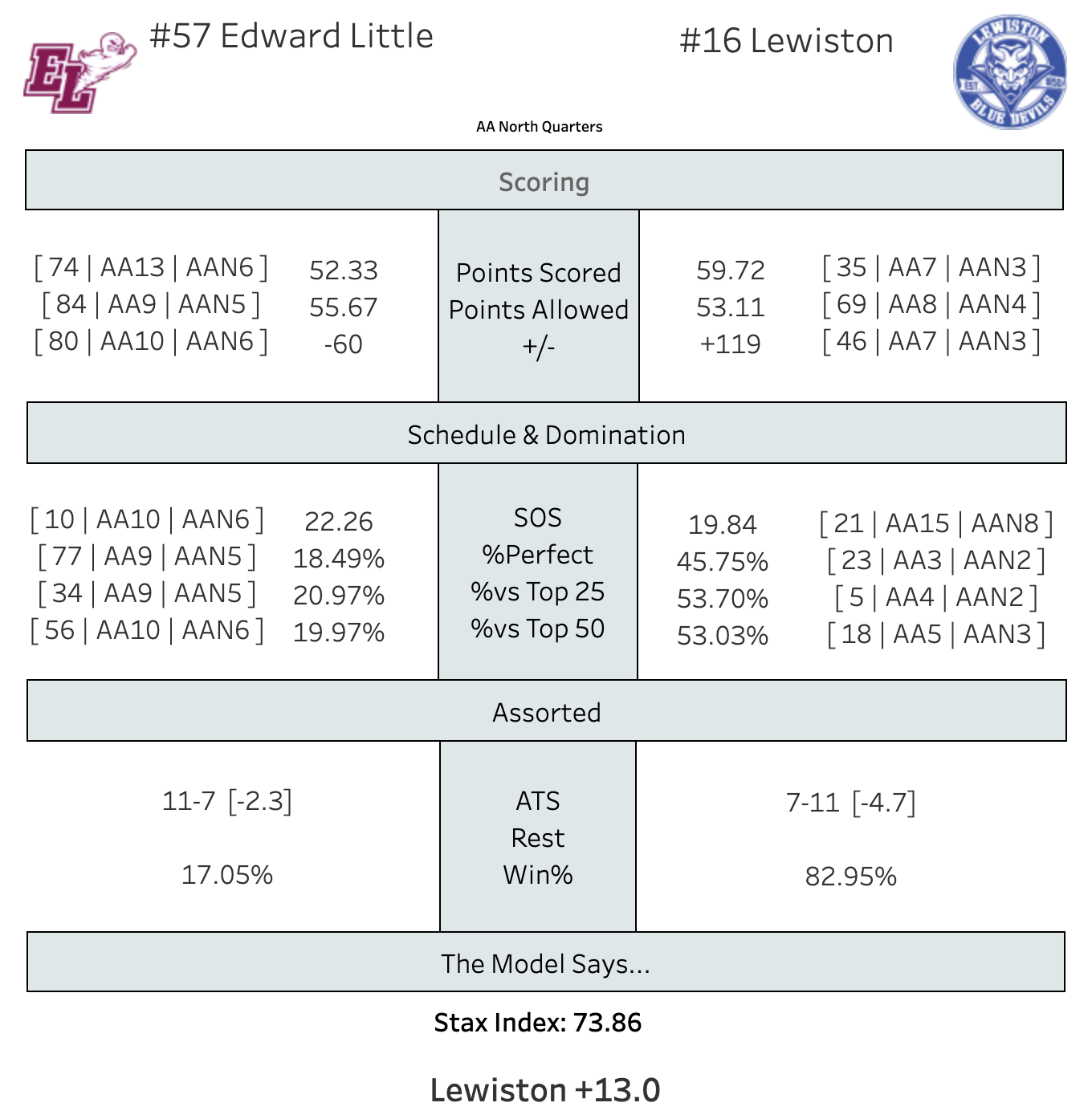 The rest of today's games are after the jump.