Zero Overtimes
There were no overtimes, but that doesn't mean we can't have a great finish.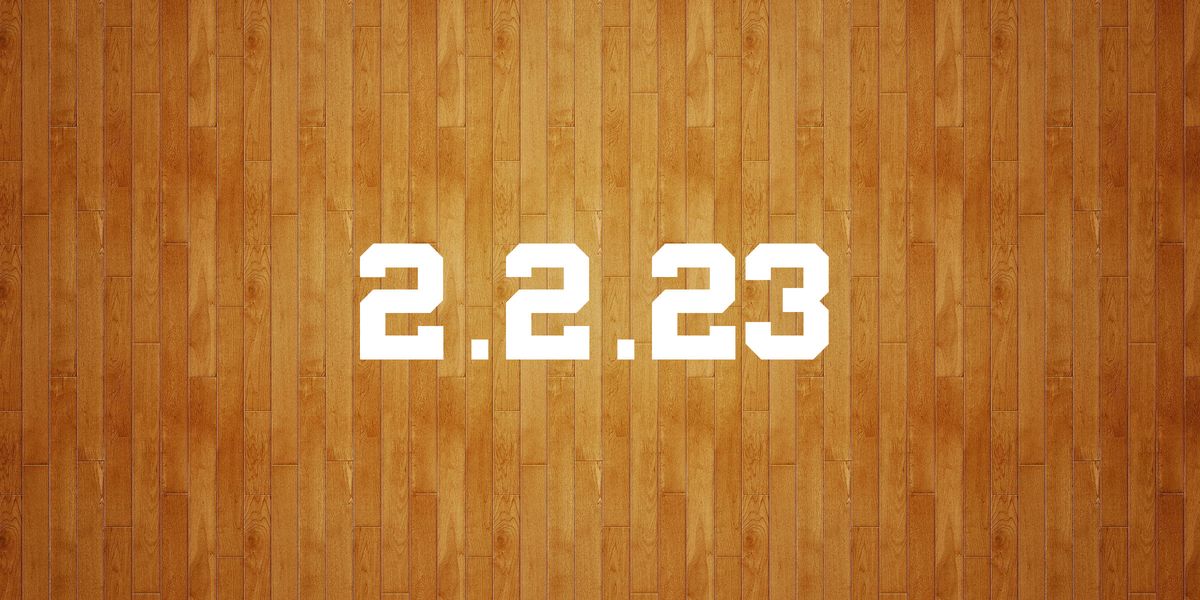 There were zero overtime periods last night. We used them all up.
The Southern Aroostook Revenge Tour ended with a loss as the Warriors fell to Penobscot Valley 42-31. Thirty-one points is far and away the fewest Southern Aroostook has scored this season. This is the first 3 loss season for Southern Aroostook since 2015-16, when they went 13-5.
It's worth noting that the Warriors have gone out of their way to play a harder schedule this year.
---
In Farmingdale, the Spruce Mountain girls found themselves in trouble in a rivalry matchup with Hall-Dale.
The Phoenix trailed by 9 with under 5 minutes to play, but rose from the ashes to pull off the win and keep their hopes alive for the 1 seed in B South.
You can watch the ending on Munzing Media. The final possession is pure chaos.  
Elsewhere...
Calais and Machias lit up the scoreboard. Jace Cook had 42 points, including 8 3's in Calais' 85-82 win...Parker Sargent had 24 as Cony beat Gardiner...Brayden St. Pierre dropped 27 in Thorndike as Maranacook beat Mount View...The Oxford Hills boys held on to beat Cheverus 59-58 and tighten their grip on the 1 seed in AA North...Kents Hill beat Monmouth to stay undefeated...Natalie Mohlar had 6 3's en route to 32 points as Maranacook blew out Mount View. Maranacook won the 2nd quarter 29-0...Peyton Reckards had 23 & 19 as Temple beat Vinalhaven on the island.
---
We have a photo of the book from the Greely/Fryeburg game.
So I did a little more digging and it turns out there was a SIXTEEN overtime girls game in my old stomping grounds of Chattanooga back in 1969. I found a write-up from Sports Illustrated.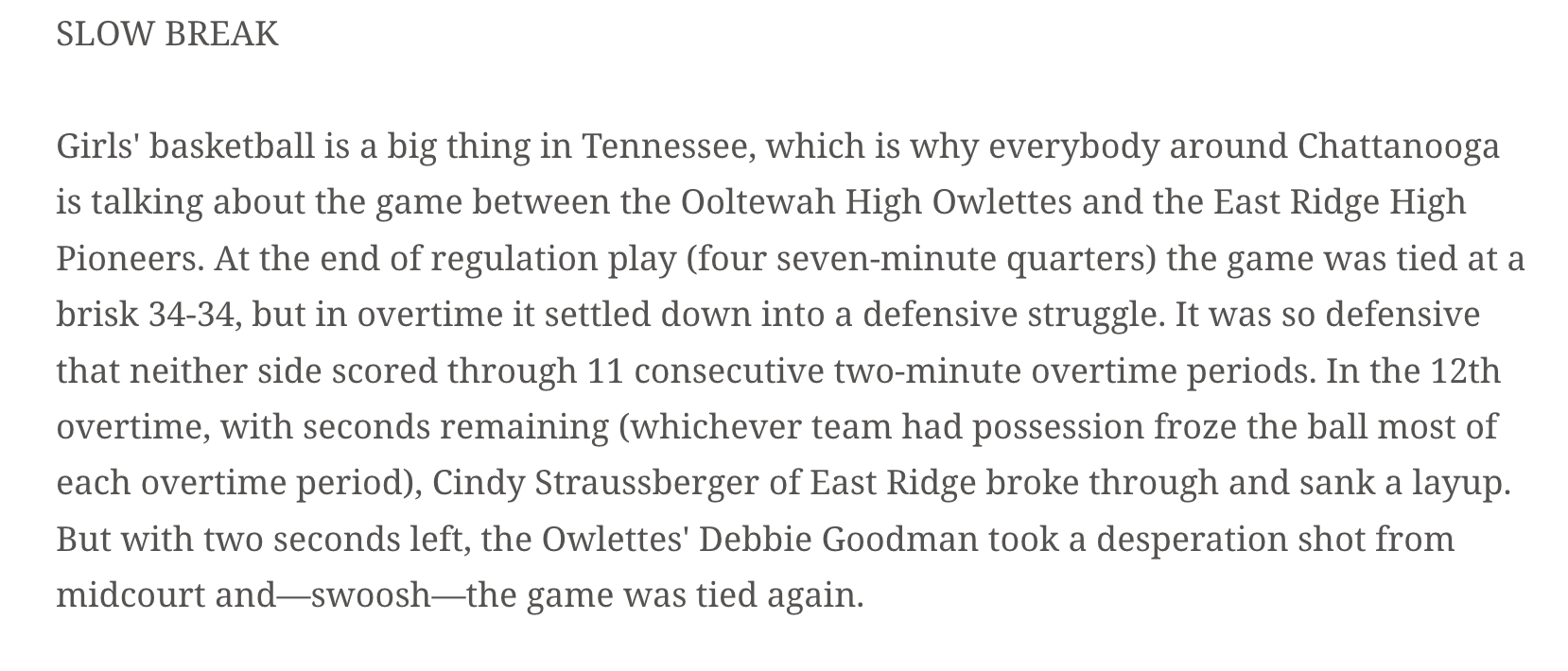 "There's no accounting for women." Way to denigrate teenage girls, 1969 Sports Illustrated.
But also, talk about needing a shot clock. Imagine sitting through 11 scoreless overtime periods.
---
If you're in Class B North, you might have noticed a shift in the Heal Points this morning.
Reader Rich Rotella reached out to me, wondering why he couldn't match the math on the MPA site, especially Ellsworth, which if you're going to use the floating divisor, should have a Preliminary Index of 38.000 (they play an all-B schedule). I started to go down the list and found that Winslow was correct, but Foxcroft and Old Town weren't.
This could be a real problem in a week, so I took the very unusual step of calling the MPA. On the phone. I figured this would be a very easy fix or a very hard fix and if it was the latter, they might need all the time they can get. Mike Bisson seemed surprised to hear from me, but we had a nice conversation--we even chatted about the Greely/Fryeburg game--and within a couple of hours the problem was fixed. Turns out it was a glitch with Houlton being a co-op team this year and not giving teams credit for beating them in their Preliminary Index.
Hopefully that's the only issue, but if you find another one, don't hesitate to reach out.
---
You may have seen this going around, but spectator died in a brawl at a middle school game in Vermont. A middle school game. Middle school.
Like, come on. Grow up. Just watch the game and cheer for your kid.
---
It got lost in the chaos of the overtimes, but I was on the radio, talking high school basketball.

We're back in AA for Oxford Hills' second half schedule gauntlet.
The other day, the Vikings lost their first game of the season, which put a big dent in their chances of getting the 1 seed in AA North. They can still get there, but they'll need some help. More attainable is the 2 seed (21%), but they're looking like the probable 3 seed. The top 3 in AA North is stacked.
In AA South, Thornton Academy is locked in as the 1 seed and it's a coin flip between Gorham and Sanford for the 2/3 seed.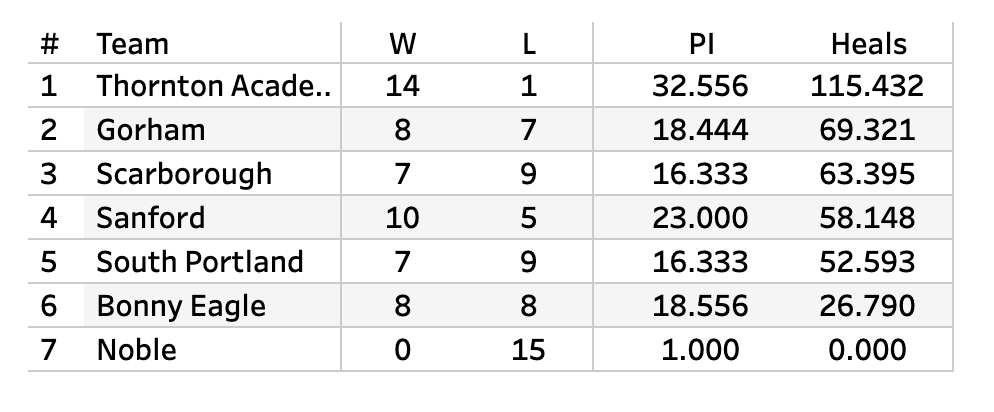 Scarborough is currently in 3rd, but they've got virtually no Heal Points left on their schedule, so they'll likely fall to 4.
The difference between 2 and 3 is pretty important. The 2 seed gets winless Noble. The 3 seed gets 8-8 Bonny Eagle. Gorham's going to need to get either this one or South Portland and hope Sanford doesn't run the table.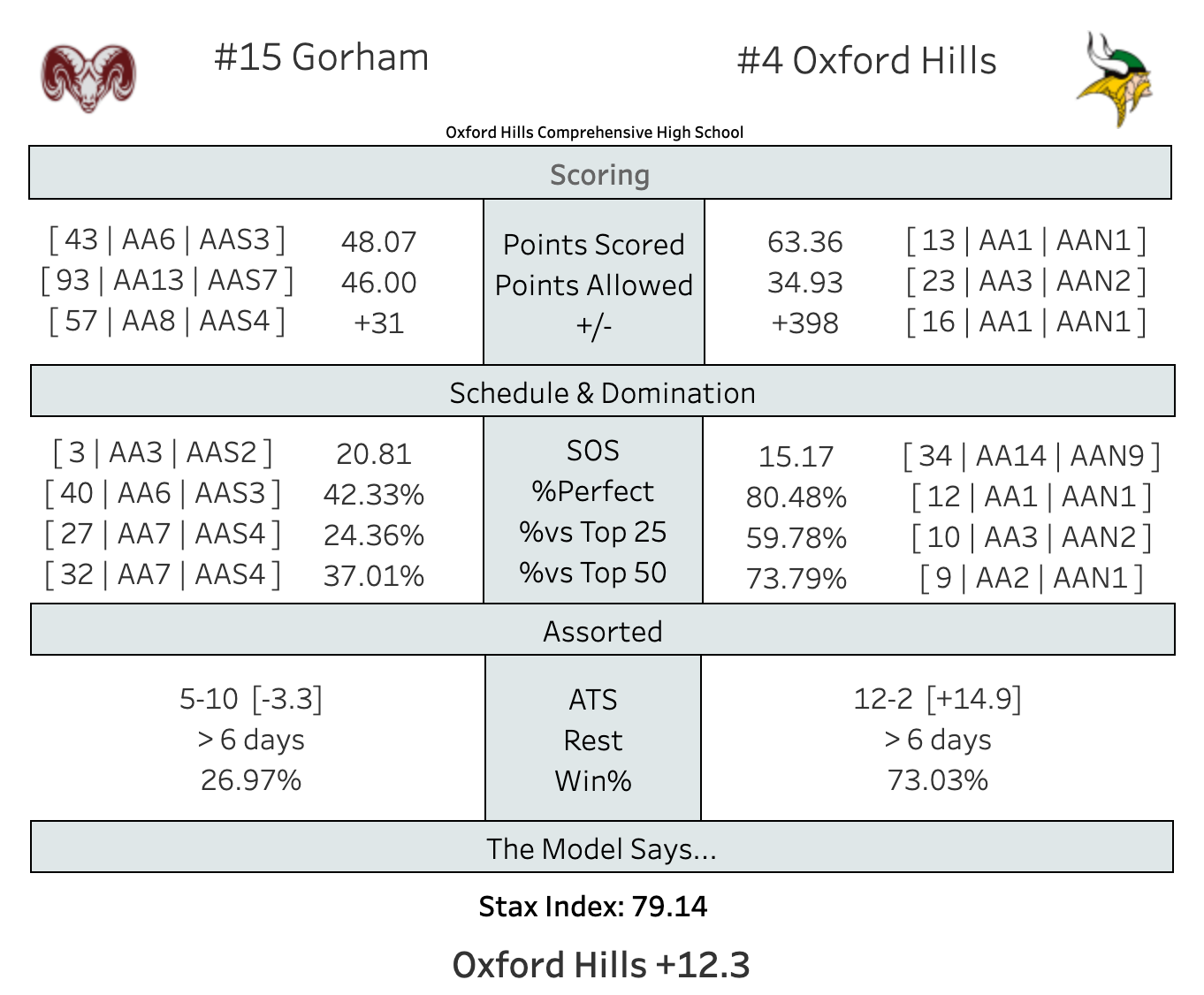 The rest of today's games are after the jump.