They Called Game
You get a game winner and you get a game winner and you get a game winner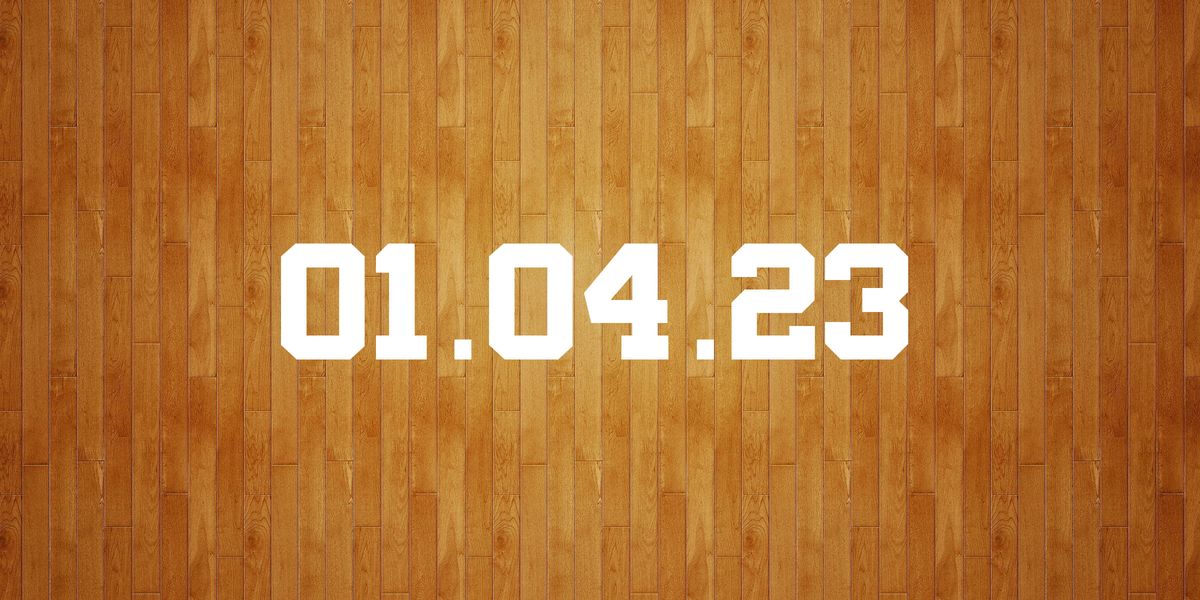 There was a LOT of action last night.
In the Game of the Day, the Oxford Hills and Portland boys battled for the pole position in AA North. Portland led most of the way, but Oxford Hills rallied late in a thriller.
Gee, where have I seen that before?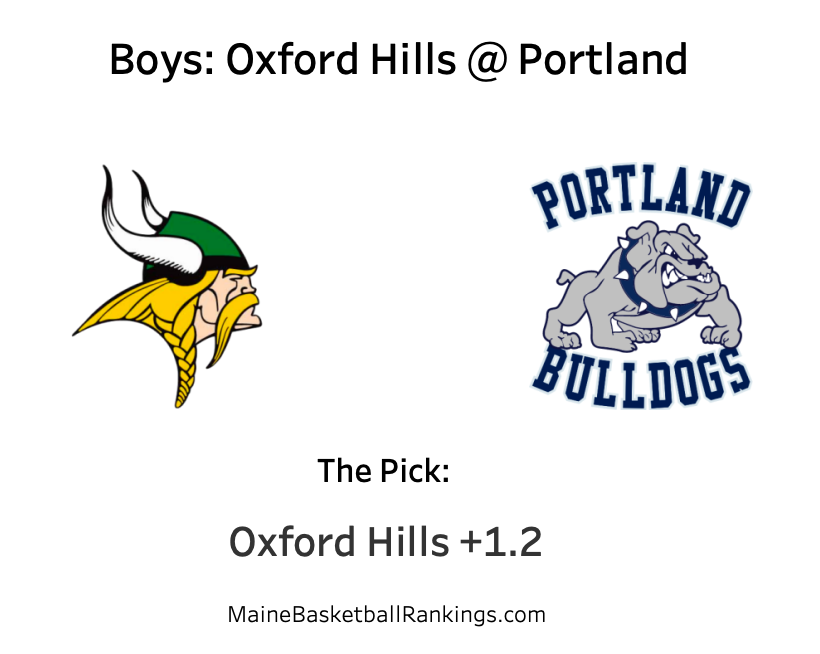 This should put Oxford Hills in the driver's seat for AA North, but we'll know for sure when the Tourney Odds finish calculating.
From all accounts it was a great game. Sadly, there was no stream, but I guess it's unfair to expect a stream when the game is in such a remote location like [checks notes] the Portland Expo.
Also in AA, the Noble boys stunned Gorham in overtime, beating the Rams for the first time in, well, in the 5 class era, for sure.
---
Then things got a little crazy around the state...
Trailing 45-44 in Caribou, Georganna Curtis with the game winner off the glass for Presque Isle!
Thanks to WHOU for the video. They do a fantastic job of covering northern Maine and the day we get rid of NFHS forever in favor of WHOU will be a banner day for Maine high school basketball.
Not to be outdone, Dane Zawistowski's buzzer-beater at home lifted Lawrence over Nokomis.
Meanwhile, at the beach...
Pier fries for everyone!
Oh and Nate Hebert just casually knocked down 9 3's for GNG.
To no one's surprise, a full slate of games gave us some great moments.

We head to the MVC for a girls game between two teams that have just been crushing their competition.
Zach Keene's Phoenix are 6-0 and in the mix for one of the top seeds in B South. They're the second most dominant team in the state (Kents Hill), with a nearly flawless %Perfect. They're probably a missed FGA against Mountain Valley from being 100%. They're also one of the 9 teams left in the state that are undefeated both on the floor and Against the Spread.
However, that MVC schedule isn't doing them any favors. The best team they've faced in a countable game is #42 Carrabec.
They'll take on a Winthrop team that's similarly laying waste to the competition. The Magic School Buses are 7-1, with that 1 loss coming to Carrabec. They're 9th in the state in scoring differential, but they've played a slightly weaker schedule than Spruce.
Honestly, I think the Model's kind of low here. It can struggle with teams that haven't been tested because, well, you can't really know how good a team is until they've been tested. The Phoenix have done everything they can with the schedule they've been given. We'll see if that holds tonight.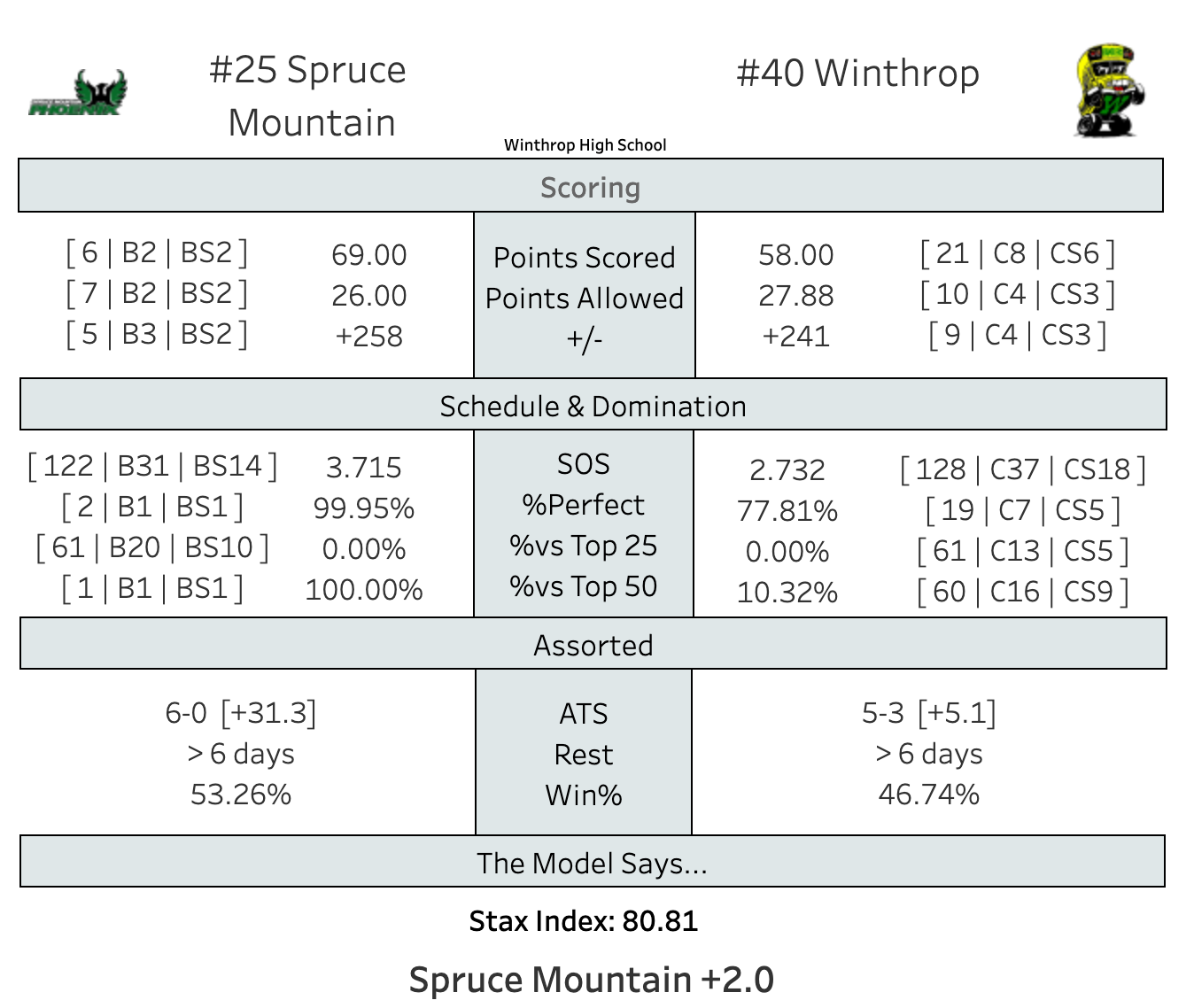 The rest of the games are after the jump.