The Witching Hour
Brewer had a busy day and the season got a little bit longer.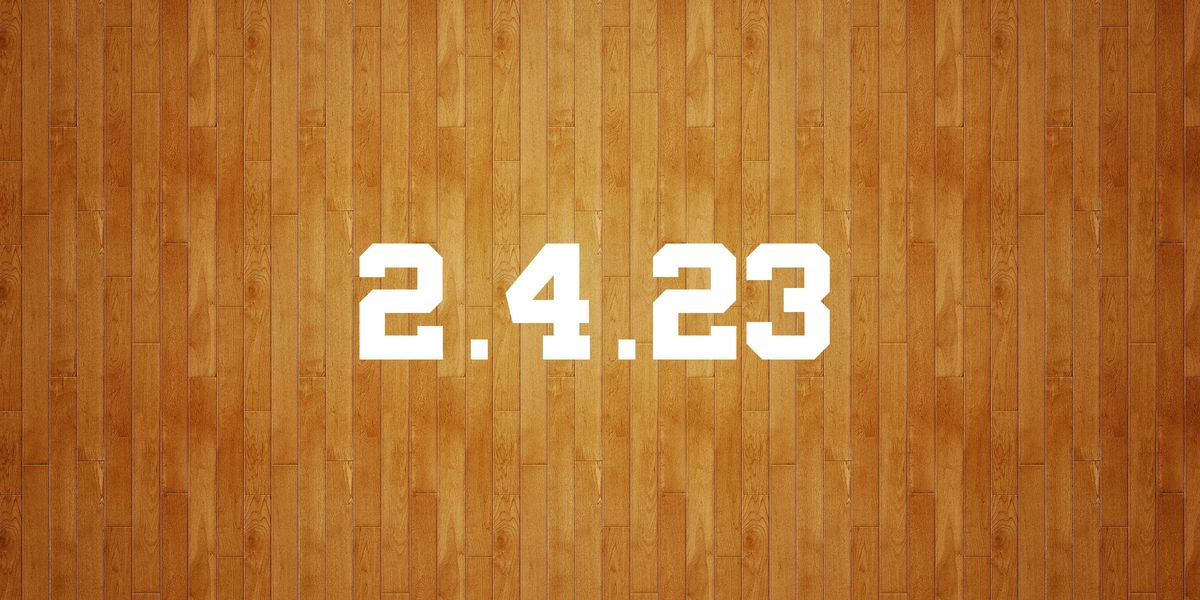 The truly great news from Friday night was that my car started after the game, but oh man it didn't want to.
The Game of the Day didn't really pan out. Jason Reynolds put up 20 & 9 and Winslow used a big 3rd quarter to pull away from Medomak Valley, 57-44. On the other hand, the Game to Check the Steam For the Score, Just In Case (really do need a new name) went exactly as expected. The Panthers had 11 players score as they went early and often to the end of their bench in a 76-16 rout.
I'm still looking for that triple-double from a JV player.
Turns out the Stax Index isn't perfect.
Because it really should have been in Brewer.
The drama began early in Brewer with a Unified Basketball game against Bucksport. The Witches survived a rally to notch a 53-49 win.
Then there was a boys/girls doubleheader with Skowhegan.
The girls game went down to the wire and Jenna McQuarrie was fouled down 1 with no time on the clock.
Then we still had the boys game.
You may remember that the Skowhegan boys were the pre-season coach's pick to win A North and all that vanished when Brewer blew them out 60-37 on Opening Night. Brewer went on to become an unstoppable force, destroyer of worlds, while Skowhegan struggled. They started 0-3 and had lost 2 of their last 3, but you have to imagine they had circled last night on the schedule.
And they came out swinging.
The River Hawks led by 11 at the half and stretched the lead in the 3rd before Brewer came storming all the way back.
Brewer had a chance to tie at the buzzer, but Brady Saunders was fouled on a 3.
He needed to make all three free throws to force yet another overtime game for the Witches.
And then.
I love the saltiness of this. Maybe it's a product of growing up when sportsmanship was...less of a priority, but back in my day, this was a lot more common and it was awesome and I miss it.
Anyway, guess who's going to be in the 4/5 game and could play Brewer in the A North semifinals?
If you're wondering, Brewer was favored by 24.5.
In retrospect, it wasn't the best night to be a huge favorite.
GNG was favored by 17.7. Mina Milosevic had 25 for Fryeburg.
The Winthrop boys were down 31-9 to Monmouth, in a game Monmouth was favored by nearly 8, and the Ramblers very nearly added to the list of upsets.
Elsewhere...
Owen Tighe had 23 as Cape beat Poland...Silvano Ismail had 29 has Cheverus nearly got to 100 against Massabesic...Jace Cook had 41 for Calais...Lindsay Hamilton dropped 27 for Carrabec...Jace Brophy had 33 for the Dirigo girls...Ashley Mullen had 23 as the Messo girls got their first win....Riley Hebler's 29 led Sanford over Bonny Eagle...Madeline Hill dropped 28 for Valley.
---
There's been this looming question over the last week or so of whether or not teams will be able to get their games in. Yesterday, PI & Foxcroft got permission from the MPA to play a game on the 10th, which was a surprise.
But not as big a surprise as this:
Not the part about the 10th. I always kind of figured the Friday was a built-in fail-safe. You kind of have to have a fail-safe because what if there's a blizzard on the final day?
I'm talking about the part where someone at the MPA replied to one of my tweets with meaningful information. What timeline is this?
Anyway, now that the word is out, a bunch of games have already gone to the 10th. Expect more.
---
Someone sign this kid!
---
The Game of the Day should be the Bangor/Oxford Hills girls game, but we've kind of been all over that region, and then it was going to be a B North boys game that got postponed, so now we're on to option 3.

They've already started playing, but the Game of the Day is in Southern Maine, where the temps have soared above zero.
The GNG boys are in a virtual tie for 2nd in the Heal Points with Westbrook, but the Blazes have a lot more points at their disposal, so if GNG is going to hold on to the 2 (very unlikely), they'll need to win twice. More likely, they go to 3, and could fall to 4 if they lose their last 2.
They'll host York, who has more range in their outcomes. York has about a 55% shot at the 4/5 game in B South with 3 to play. They could drop to the 6, if they lose all 3 and there is a worst-case scenario where they fall into the play-in round, and someone like Mountain Valley sneaks into the bye, but that requires they beat Dirigo and York loses out and then they probably need some help.
GNG is up 5 at the half.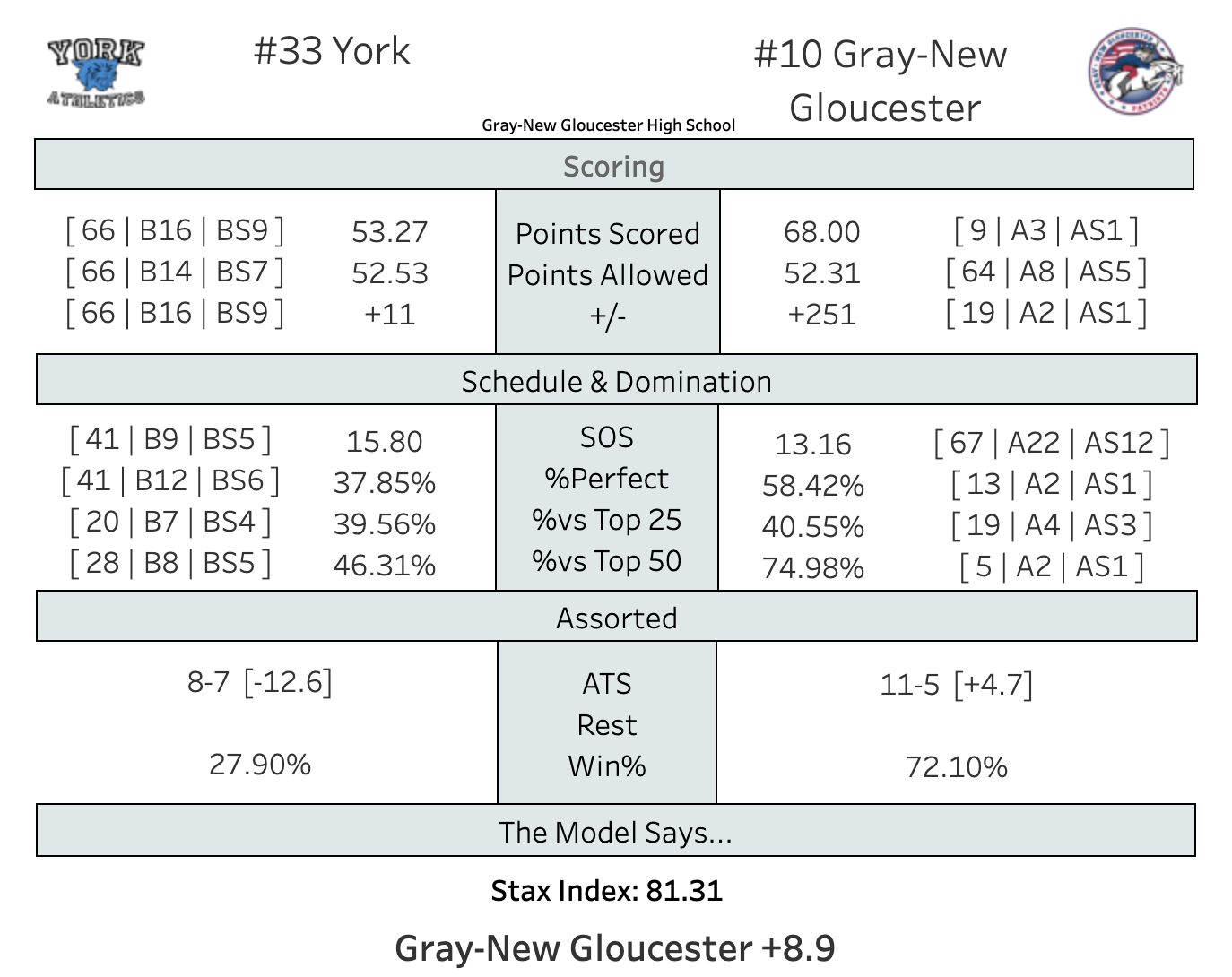 The rest of today's games are after the jump.