Start Your Scoreboard Watching
The Caribou girls win a big one up north, Class B is predictably a mess, and some scoring milestones.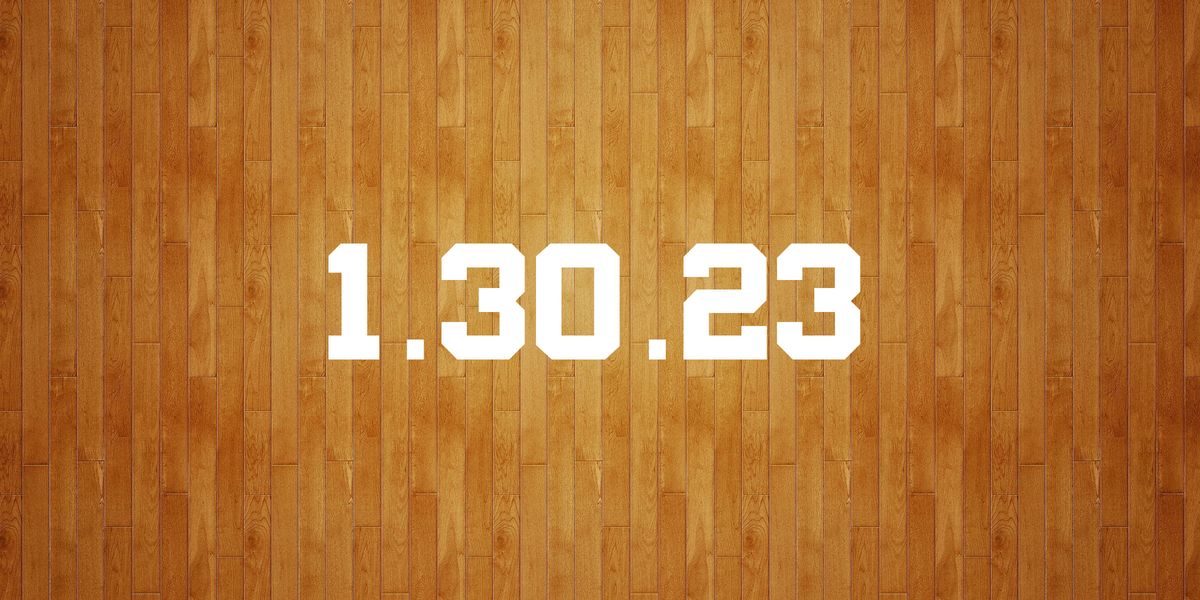 In the Game of the Day, Caribou rallied down 9 and Ellsworth misses a 3 at the buzzer as the Vikings knocked off Ellsworth at home. Selena Savage had 20 in the win.
The win gets Caribou to 2nd in B North and gives Caribou a 89.7% chance at the 2 seed and Ellsworth is equally the 3 seed.
B North from 4 on down is pretty much a mess, but the top 3 are pretty solid. What is in play, though, is a potential Caribou vs. Presque Isle quarterfinal matchup, which would be fun as hell. Lot of basketball between now and then, though and a lot of way the Heal Points could shake out.
---
Woodland's Ethan Monk entered yesterday's game against Sumner (at Ellsworth, thanks to Sumner's gym issues), needing 22 points to reach 1,000 on his career. Let's go to the 4th, where Woodland is down 5.
Woodland scored the final 12 points of the game to pick up the win.
---
In Rockland, a day after hitting her 200th 3-pointer, Audrey Mackie became Oceanside's all-time leading scorer, passing Kennadi Grover's 1,118 record with--you guessed it--a 3-pointer.
Bailey Breen added 24/18 as the Mariners pulled away from Medomak Valley in the 2nd half to continue their win streak.
Maya Cannon had 16 rebounds for the Panthers.
---
Scott's kind of burying the lede here, but that's Jace Bessey with the game-winner over Freeport.
Spruce very likely locks up a top 4 seed in B South, but things are kind of getting messy.
Don't look now, but B South boys might be wide-open.
Yarmouth has won 5 straight to insert themselves directly into the mix. Stevie Walsh scored 28 as they beat Greely on Saturday.
Going into today's games, it looks something like this:

We might know our Top 4. Maybe. There's only 2 regions where more than 4 teams can get to the 1 seed, this one and C South Girls. 11 teams could still get to the bye, including a Lisbon team that's only 6.8% to get in, despite having the 5th best point differential in the region (they have quite a lot of Heal Points left).
Part of the fun of this is there's some big ticket games outside the region that could be a factor. Teams like Dirigo, OOB, and Winslow that have big point values that could come into play down the stretch and jump a team a couple of places.
It's Scoreboard Watching Season!
---
I'll add a plug here for subscribing. Bear with me.
This is the time of year when I hear a lot of people, both in the stands and in the media, talking about how this team is still angling for this or that and sometimes that's accurate and sometimes it really isn't. The Heal Points are a wildly complex thing that very few people can do in their heads. I can't, which is how I ended up with a large spreadsheet.
But the Tourney Odds give you a really good idea of what's possible. You could be one of the teams that are already scouting their first-round opponent.
Plus it helps make this site possible!
---
In Biddeford, the Tigers trailed by 14 at the half before erupting with a 21-4 third quarter. And then Drew Smyth finished it.
Considering Biddeford's Tournament prospects were on life support, this is a massive shot and a massive win.
Elsewhere...
Chance Mercier dropped 42 as Ellsworth rolled past Caribou...Luke Carey's 32 points led the way as Carrabec gave Forest Hills a rare home loss in Jackman....Silvano Ismail scored 25 in Cheverus' big Heal Point win against Lewiston. The Stags will be the 4 seed in AA North...Dakota Shipley's double-double led Brunswick to a huge statement win in Bangor...The Freeport girls built a 12-point halftime lead and Spruce Mountain couldn't put together a comeback in losing their first game of the year...Amanda Trepanier 23 led Hall-Dale past Winthrop in a crucial C South victory...Nate Hebert hit 5 3's as GNG rolled by Lake Region...Cooper Scott had 24, including the game winner, as Oak Hill won their 3rd of the year.

We're back up North for a matchup between two of the top girls teams in Northern Maine.
We've been here before, when Hodgdon won a 47-46 thriller in Dyer Brook. It was Southern Aroostook's second loss in a row. Since then, they've recovered nicely, winning 6 in a row by an average of 44.2 points per game and locking up the 1 seed in D North.
Hodgdon is still unbeaten, but outside of Southern Aroostook their schedule has been light on Heal Points and C North is deep. The top 4 teams in the Heal Points have a combined 4 losses and only 3 of them are getting a bye directly to Bangor. Dexter has a stranglehold on the 1 seed and Hodgdon, Pensobscot Valley, and Central are battling for the other 2 byes.
This is Hodgdon's best shot to lock up that bye. Southern Aroostook will be out for revenge.
WHOU will have the broadcast as the second game of a boys/girls doubleheader.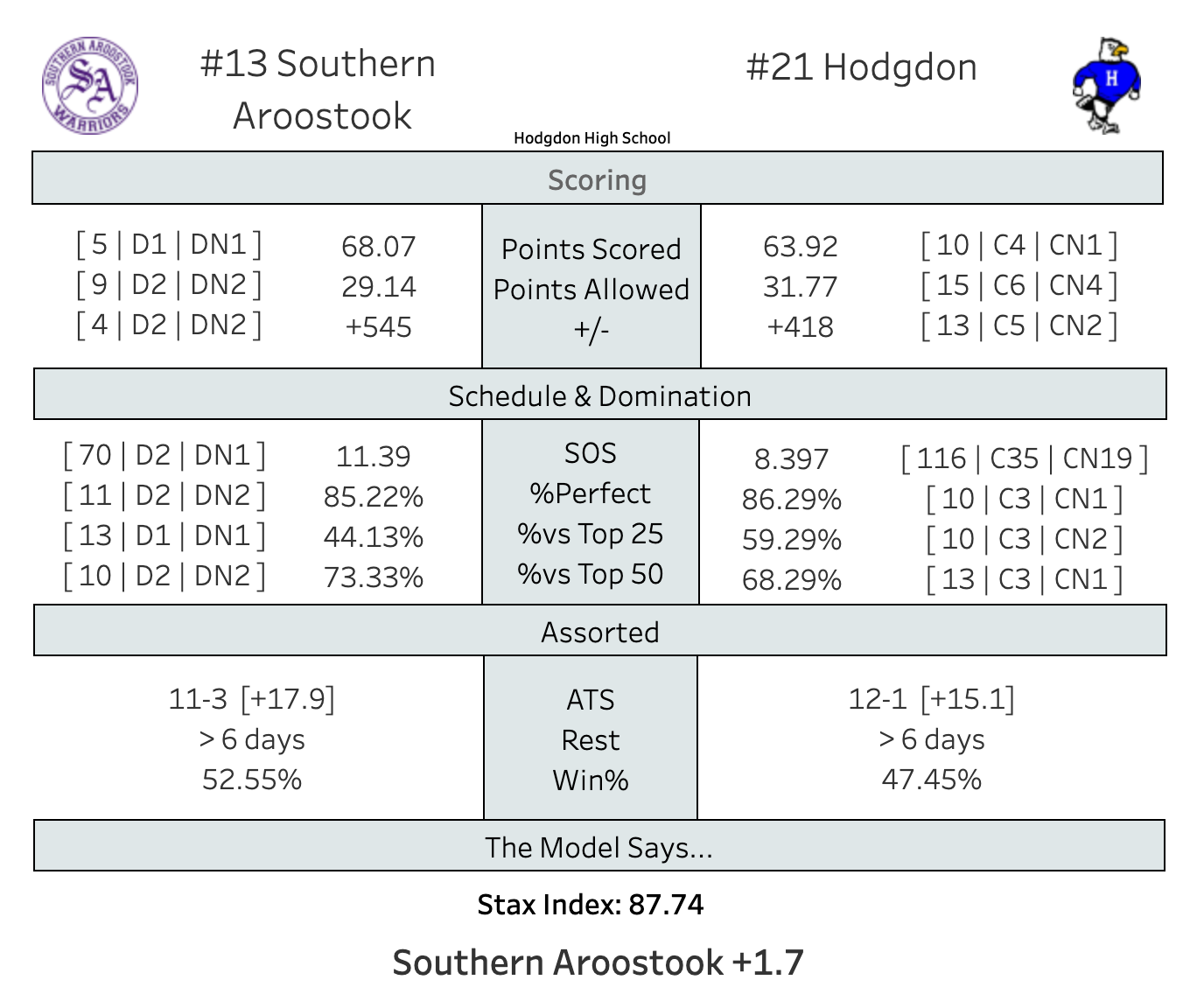 The rest of today's games are after the jump.