Saturday Quarterfinal Chaos
Quarterfinal Saturday was a LOT.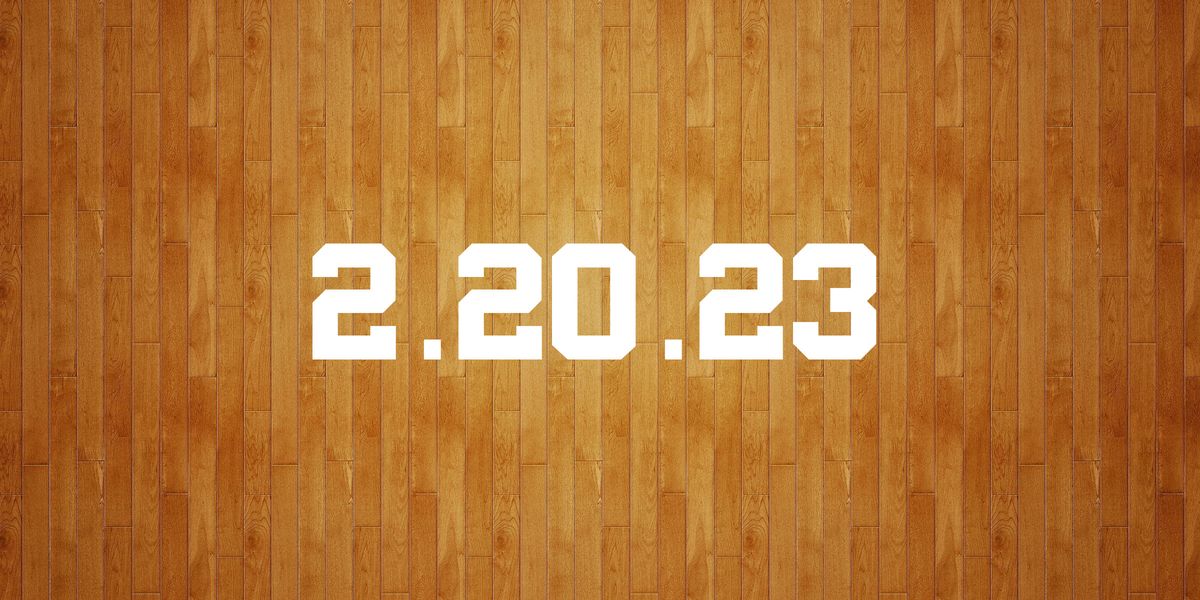 So Saturday was a LOT.
We had blowouts and buzzer-beaters and some fantastic performances around the state.
It's overwhelming and exhausting to do a full 8 game slate at a site. By halftime of the last game you're struggling to remember who played at 9am and then there's 2 other sites that might as well be on the moon. So I figured I'd do a recap of some of Saturday's highlights, mostly by sharing Tweets from the people you should be following to keep track of the rest of the tournament.
---
For the Bangor Daily News, I previewed some of Saturday's most intriguing matchups, with varying degrees of success.
I'll be doing this for every day of the tournament, so subscribe to the BDN's YouTube channel for those.
---
NFHS was more or less out of commission for long stretches and when it was working, it was delayed by several minutes, so if you were trying to stream the games, it was tough going.
And when they were working, there were other issues. I count at least 5 here. It's like one of those kid's magazines where you have to circle the mistakes.
As much as I'd like to have a summer home on Vinylhaven, I hear it's about to be overrun with hipsters.
Anyway, it's almost time for WHOU to take the wheel.
We started in the morning sessions...
In Bangor, Houlton (did they bring their band?) made short work of Washington Academy in a seeding upset (the Model had them by 6) and Old Town didn't have much trouble with Presque Isle.
In Augusta, the D Quarterfinals went chalk, including a blowout by Valley.
Down in Portland, Wells took care of Maranacook and Spruce Mountain, clearly hampered by their conference schedule, blew the doors off York. In the B South 4/5 game, Maya Cannon had 24 rebounds as the Medomak Valley girls reached the semifinals for the first time since 2011.
I may have jinxed Lake Region, as I tweeted that they were 3/5 from 3 early in the game and they proceeded to go 0/8 the rest of the way. So that's my bad.
---
Here's a good spot to let you know that there are box scores for all the games I do live stats for. I've done 10 so far. These are a free feature, but the more subscribers there are, the more games I can justify doing and the more tournament coverage I can bring you, so if you haven't already, subscribe!
---
In the last game of the girls B South session, Yarmouth led by 9 as late as 3:45 left in the 3rd quarter, but Oceanside went on an 11-0 run to get back in it. They went back and forth from there, but the Mariners got a little bit of a lead, Yarmouth couldn't convert, and Audrey Mackie made her free throws down the stretch to seal it.
She finished with a game-high 20.
Speaking of the Expo, we had some small issues with the floor.
As one ref said, "I guess we call the white lines".
Afternoon/Evening
As the afternoon sessions kicked off, we got a big upset in Bangor.
East Grand was an 11-point underdog to the team I picked as my Cinderella in D North.
Wisdom got 29 from Lilly Roy to beat Jonesport-Beals and Schenck beat Katahdin. And then in the finale, Shane Feeney put on a SHOW.
Down in Portland, Marshwood beat Fryeburg and Westbrook got white-hot from 3 as they rolled to the semifinals.
Kennebunk got out to an early lead over GNG behind Theo Pow (20 points) and led 32-23 at the half. But Nate Hebert would not go quietly. He had 17 as the Patriots came all the way back to win 55-51. In the nightcap, Judd Armstrong had 17 & 12 as Falmouth took care of Mt. Ararat.
In Augusta, Skowhegan's LePage brothers were too much for Lawrence. They put up 14 (Kyle) and 18 (Collin).
And then #7 Messalonskee took down the defending champs in a thriller.
The Game of the Day turned out to be a bust as Cony used a 20-9 2nd quarter to blow out Mt. Blue. Parker Sargeant had 26 points, 7 rebounds, and 5 assists for the Rams.
Oh, and the MPA has a Twitter account that's just tweeting out shot charts, because apparently we're in the future now.
And then we come to the last game of the night, between Camden and arguably the best team in the state.
First, we almost lost Mike Mandell.
Brewer was struggling early, but they were still leading. And then Camden got hot.
Brewer has been tested a couple of times this season, but very few people outside of Camden (and maybe Rockport) saw this coming. How would the Witches respond? To start, they got this free throw from Brady Saunders early in the 3rd quarter.  
That helped fuel a 15-2 run for the Witches over the first 6 minutes of the half and then they went into a stall. In the 3rd quarter. Stalling is generally a bad idea and it's painful to watch, but it's a really bad idea when you're up 5 in the third quarter and you have the more talented team. You want more possessions in that scenario, not fewer. Because what if you bleed the clock and then Camden goes on a 8-0 run or something? Then what? But Camden went 3/19 from the floor in the second half, even after Ryder Goodwin fouled out on a flop technical. Yes, a flop technical. It was definitely worth staying up late for this one.
Brewer survived.
And then as I was leaving Augusta, the truck in front of me hit a deer. Saturday really did have everything.
---
Monday we'll do it all over again.
I think I'll be in Augusta most (all?) of the day and I'll have live stats as always.

I've had my eye on this one for a little while.
OOB has won 8 of their last 9 games with the 1 lost coming to a pretty good York team. They went 13-0 this year against C South teams and very few of those games were very close. But C South is really deep and OOB didn't have enough Heal Points on their schedule so they fell to 4th.
They'll face #5 Mount Abram in the 4/5 matchup.
The Roadrunners, living up to their name, are the 4th highest scoring team in the state. They've won 8 straight, including a shellacking of Hall-Dale in the prelims.
The trick with both of these teams is their schedules are some of the weakest in C South. If one of those teams is going to make a run, that schedule is going to get a lot harder.
I'll have live stats for this one, if you can't make it to the ACC.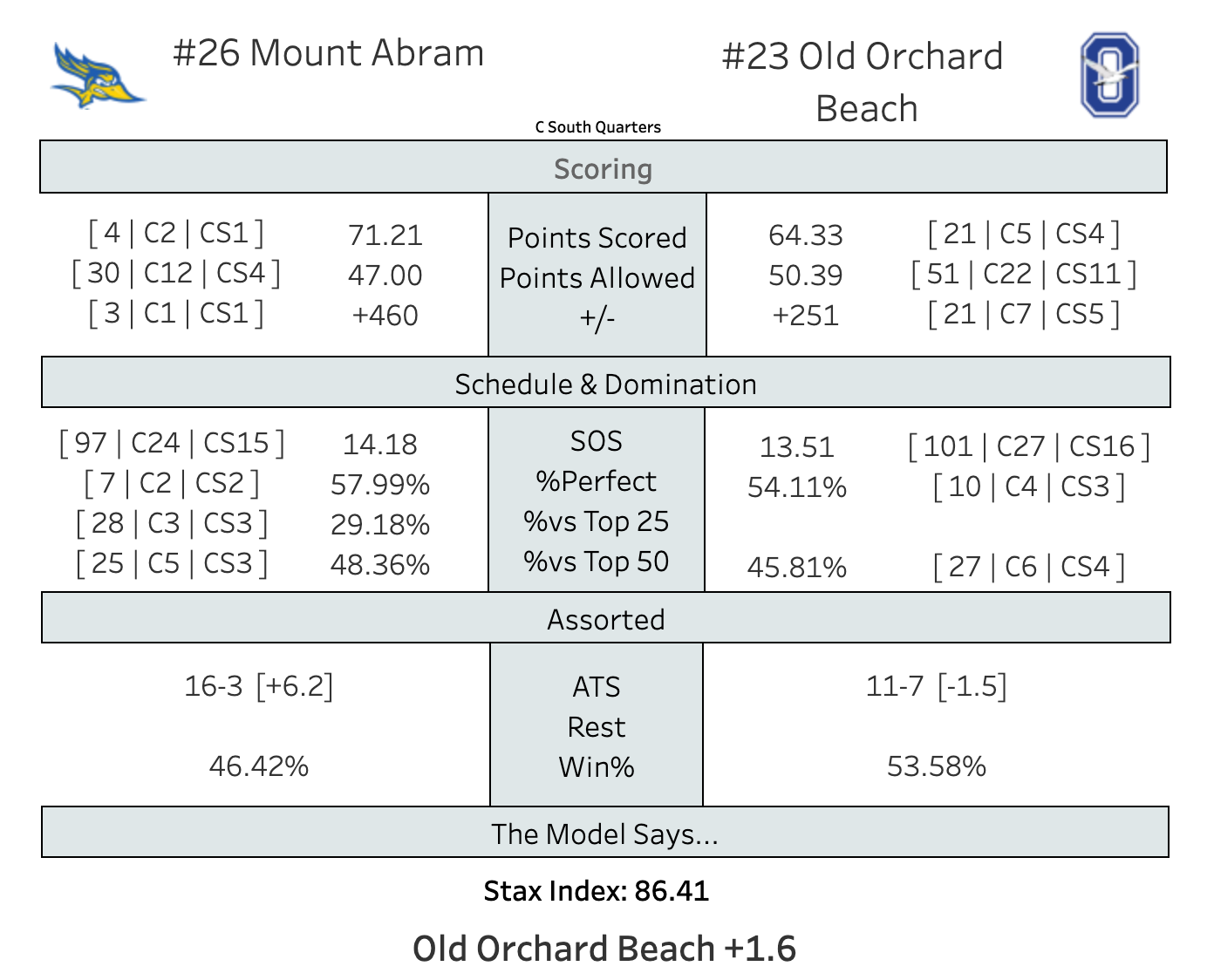 The rest of today's schedule is after the jump.