Sail Away
Oceanside makes a statement, a coach gets tossed, and Oxford Hills is about to run the gauntlet.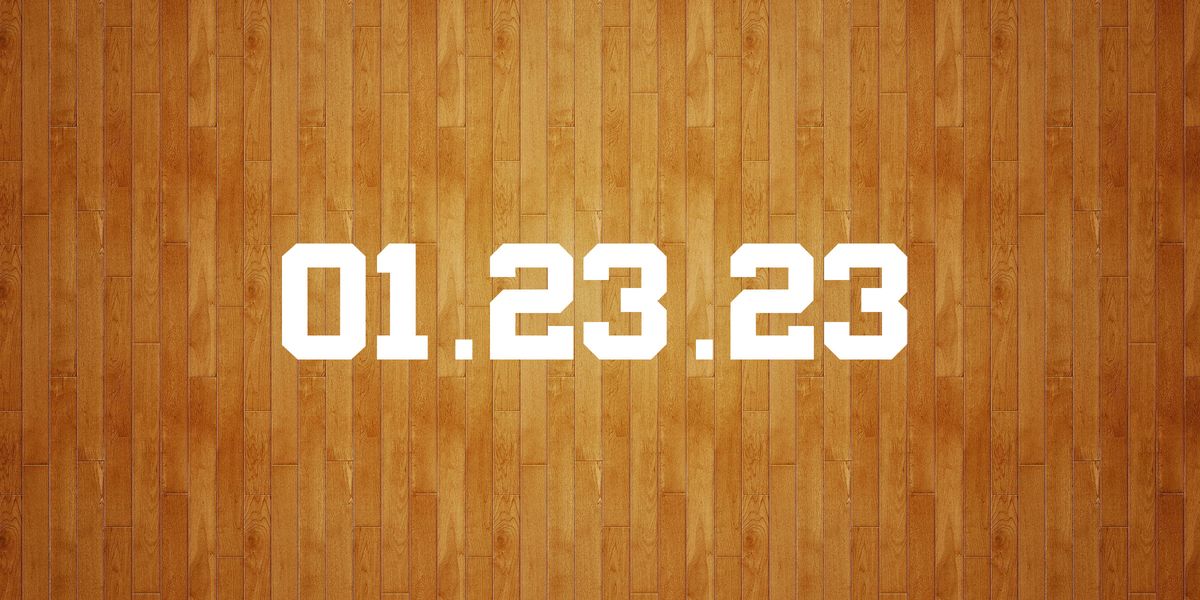 Before a packed house in Waldoboro, the Game of the Day started slowly--Oceanside led 9-5 with a little over 2 minutes to play in the first quarter, but then the Mariners took off, exploding with a 21-5 run that Medomak Valley was unable to recover from.
The win vaults Oceanside into first place in B South. It also makes them the favorite for the 1 seed come tournament week.
The loss drops the Panthers to 3rd in Tourney Odds behind Spruce Mountain.
In the other big matchup of the day, the Oxford Hills girls led the entire way in beating Cheverus. The Stags were favored in the game, largely because Oxford Hills has saved all of their hard games for the next couple weeks.
This is what their schedule looked like before Saturday's game.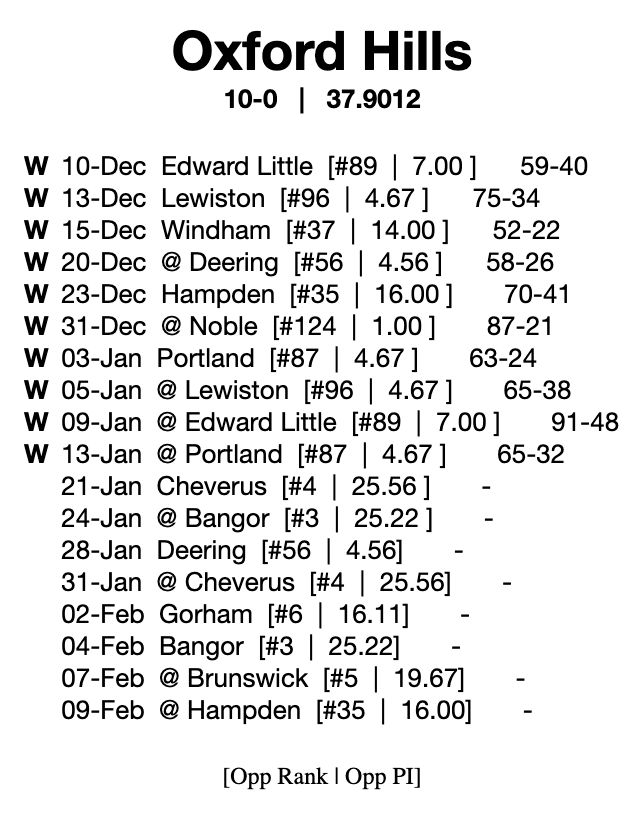 That's an insane stretch of games, one I'm not sure I've ever seen before. If the Vikings can get through that intact, they'll absolutely be battle tested for the tournament.
---
In things you don't see every day...
If you were wondering (and I know you were), apparently if you get ejected from the JV game, you can come back and coach the varsity game.
I'll let you go to Ethan's feed to get more details. You should be following him anyway.
Greg Levinsky interviewed Lizzy Gruber at halftime of the OOB game.
Elsewhere...
Charlie Houghton's 33 kept Dirigo undefeated...Braidan Welch had a 19 point, 10 steal double-double for Forest Hills...The Brunswick girls made short work of Mt. Ararat in A South. The Dragons are now 95% to get the 1 seed...Forest Hills played a doubleheader on Saturday, winning 3 of the 4 games...But Kents Hill did one better. They played a doubleheader at 2 different locations, starting with a win at Wiscasset then driving almost an hour to play Mountain Valley at home...Maya Gayle's 20 led Deering past SoPo...Megan Gallagher's 20 led Gardiner in a rout of Mount Blue...Brooke Landry dropped 29 for Sacopee Valley...Cole Pulkkinen had 32 to lead Oxford Hills' big second half against Cheverus...Wyatt Cassidy had 30 as Richmond rolled past Buckfield...Ellie Leech's 20 & 16 got Seacoast Christian by Forest Hills...Noah Hurd had 28 to lead Mount View to a win over Washington Academy....And the Brewer boys survived in overtime again to stay unbeaten. Brady Saunders had 27 for the Witches.
At the next level, Bates has a new scoring champ.
---
The weather forecast is obviously terrible for today, but we've already got teams scheduling doubleheaders and struggling to find refs, so I wouldn't be shocked if some schools tried to get games in.
So let's pretend these games are happening.
I'll keep the Scoreboard updated as cancelations inevitably roll in.

The Skowhegan boys were a pre-season pick to win A North, but they started the season 0-3, which kind of took them off a lot of people's radar.
Since then, they've won 7 of their last 8 to get themselves back in the A North race. They've worked their way back up to 5th in the Heal Points, gotten their point differential to a positive number, and clinched a playoff berth.
Meanwhile, Brewer has run away with the 1 seed, leaving a vintage A North playoff race.

There's a lot of different ways this could shake out.
At some point (maybe even today!) Skowhegan will host a Mount Blue team that started 4-1, including wins over Skowhegan and Nokomis, but has since gone 4-3. However, they lost to Brewer and Nokomis by a combined 9 points. They're 2nd in Class A in point differential and they have the profile of a nearly 9 win team.
Whenever this game does get played, it'll tell us a lot about the race for 2-6 in A North, but if I know anything about this region, it's that this will change 15 times between now and the tournament (and then a couple more times during the tournament). We might be in for a fun stretch drive.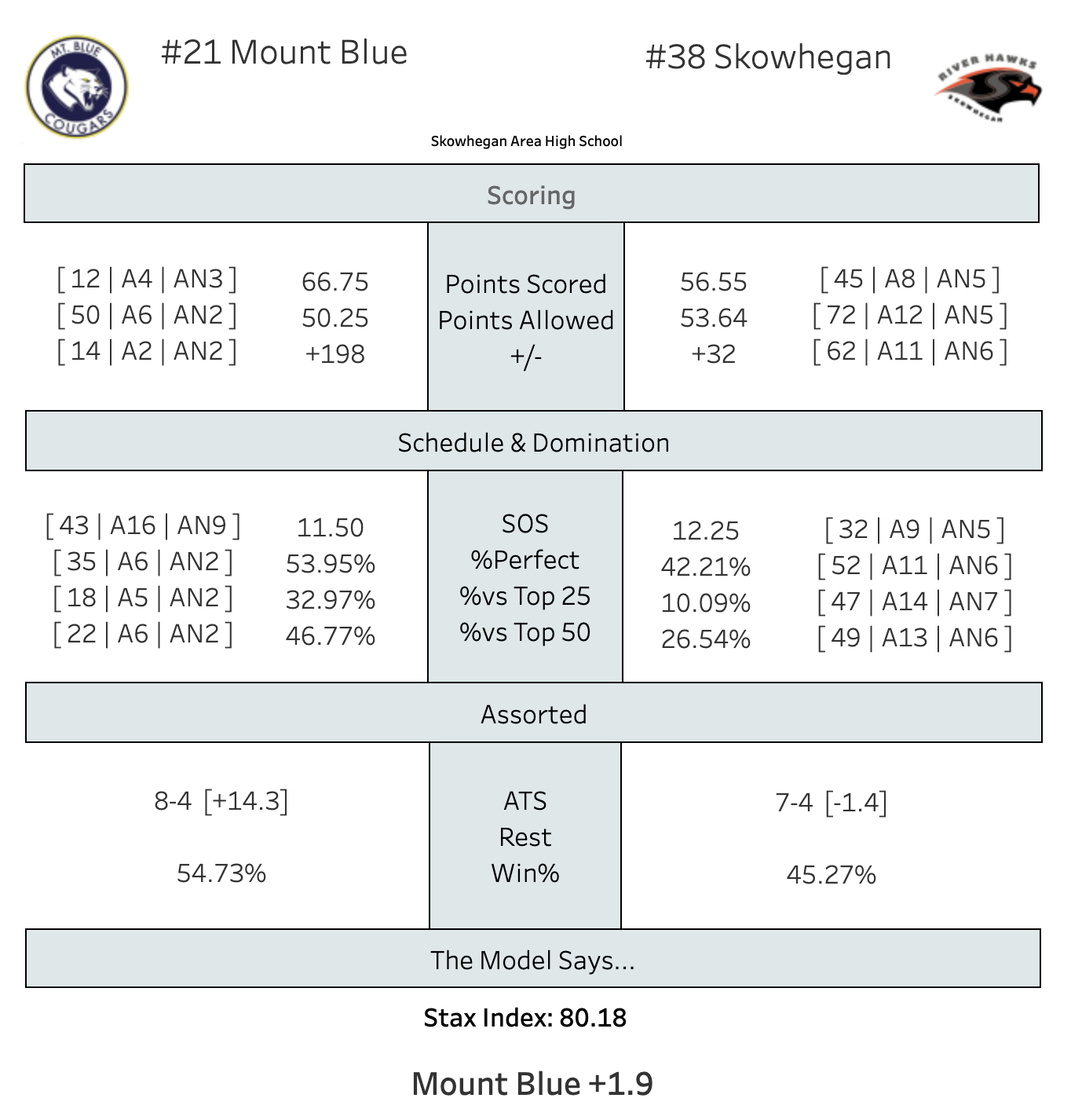 The rest of today's maybe schedule is after the jump.