Overtime(s)
Greely and Fryeburg played how many overtimes?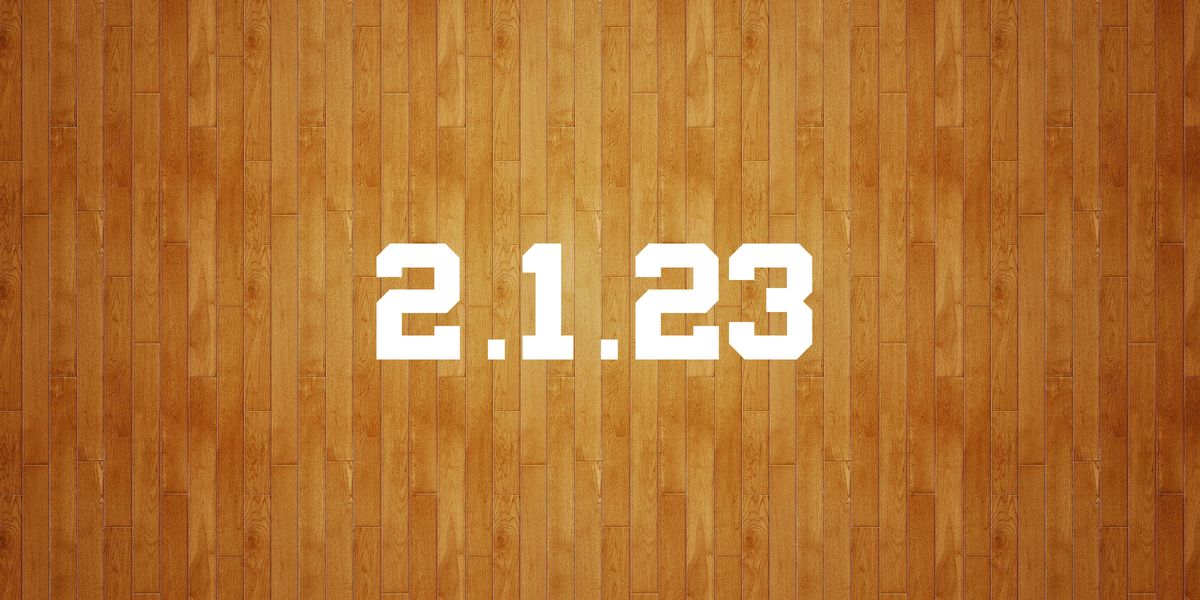 Let's start with the Game of the Day.
The gauntlet of Oxford Hills' schedule caught up with them. Cheverus led by 1 at the half and slowly pulled away to win by 8. Emma Lizotte and Madigan Fitzpatrick each had 15 for the Stags as they took Oxford Hills down from the ranks of the unbeaten.
Cheverus now moves to first place in AA North and is the overwhelming favorite to be the 1 seed. Oxford Hills and Bangor will now have to fight it out for the 2.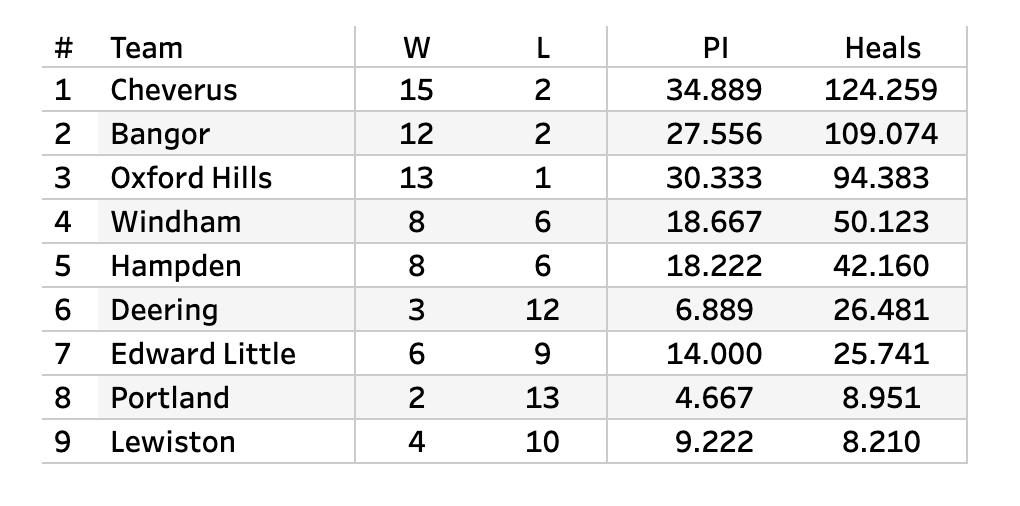 BUT THEN
A couple of days ago, people were calling the NYA girls some impossible to stop force that could only be contained, never beaten. Here they were a 9-point favorite, which is formidable, but isn't exactly Spruce Mountain vs. Wiscasset. Well it seems like the OOB girls read that, probably in-between skee-ball games, and took it to heart. They went toe-to-toe with NYA and won, avenging an 18-point home loss from earlier in the month, 45-40.
NYA falls from the ranks of the unbeaten.
BUT THEN
Down 15 in the 4th quarter to Cony with their future Miss Basketball saddled with 4 fouls, Gardiner decided they would rage against the dying of the light. They rallied. Gruber's layup sent the game to overtime and, as often happens in these games, Cony missed their opportunity at a knockout. Gardiner pulled away in the extra minutes, winning 68-62.
Despite the foul trouble, Gruber finished with 28 & 16. The Miss Basketball race has been over for a long time, folks.
Taylor Takatsu added 10 & 12 for the Tigers and Cony got 22 from Sage Fortin.
BUT THEN
In a game paired with a fundraiser for a bus driver who's battling cancer, the Wells girls took on Lake Region.
Wells still has a shot at the 1 seed in B South and Lake Region is trying to avoid dropping to the 6 or--worst-case scenario--the 7 and a play-in game.
A missed "and 1" on a 3 at the end of regulation sent the the game to overtime. And then they went to another overtime until Wells finally pulled away in the 3rd extra frame.
Whew.
Clearly that would be it.
BUT THEN
The Greely boys aren't having the best season by their standards. They entered tonight as a team that will have to bring their road uniforms to a quarterfinal matchup, which hasn't happened in...a while.
Anyway, even if it doesn't end with a Gold Ball, this will be a season the Greely faithful will never forget. Because tonight, they went the distance.
EIGHT OVERTIMES. EIGHT.
I can't think of an eight overtime game, at any level.
Greely was up 10 with 2 minutes to go before Fryeburg stormed back and the Rangers needed a buzzer-beating three to force a 5th OT at 100-100. And then there were 3 more overtimes. Whew.
You can watch the whole thing here, or just skip to the OTs. The last couple minutes are pretty electric.
Greely won 117-115 and you have to think 115 is the most a team has ever scored in a loss. Tyler Pettengill hit 9 3's (including a buzzer-beater) en route to 39 points for Greely.  
The NBA record is 6 overtimes in a 1951 game between the Indianapolis Olympians and the Rochester Royals, which somehow ended with a score of 75-73. The NCAA record is 7 overtimes, between Cincy and Bradley, which also ended with a score of 75-73.
If this site is to be believed, it would be tied for the 3rd longest high school game ever, with the record being a 13 OT game in North Carolina with a final score of 56-54 (my god, the missed free throws). It would be the 4th 8 OT high school game ever, with one of them being a quarterfinal playoff game! Imagine having to stand in the tunnel at the ACC for that.
If you have any familiarity with the scorebook that nearly every team uses, there's not a lot of room for overtime.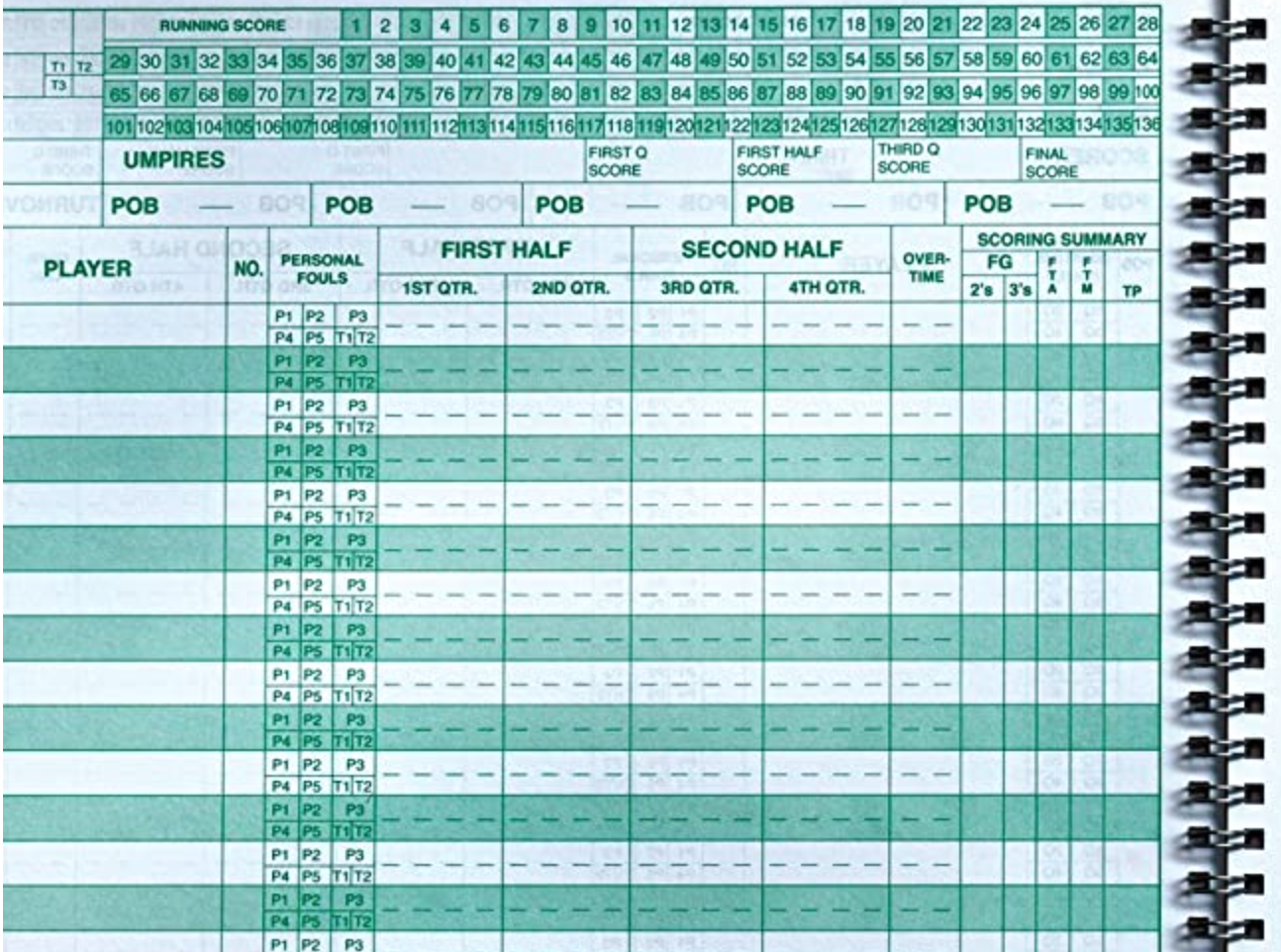 My question is pretty practical: how do you fit 8 overtimes into this? Do you start a new page? Do you grab a legal pad? They essentially played 2 games. How does this work? I guess maybe you go into the scoring summary?
AND THAT'S IT
Nothing tops that.
But what a night.
---
In less exciting news, the Monmouth and Oak Hill girls completed their game from January 12th that had been postponed at halftime when the power went out.
They played the second half last night, with Monmouth winning 53-31.
And that explains why that score never got reported.
---
This didn't end up being a good game (and certainly not by last night's standards), but at Lincoln Academy, they have a TV in their concession stand. Normally they stream the game so you don't miss anything while you get a hot dog, but the boys game 2 towns over was a pretty big game, so they were showing that instead.
I love this.
This was very nearly an event, but the boys game was still in the 3rd quarter, so everyone decided to rush home (I made it home with 3 minutes left), but in a less staggered scenario (or a longer drive) this would be awesome. And what's a basic TV? $200? Less?
This seems like a great feature. It's too bad you can't sell beer after the game ends.
I would love a world where we all gather at the concession stand to see if the other team won. It could be the next best thing to boys/girls double-headers.
---
Elsewhere...
Dirigo had 4 players in double figures as they rolled past Telstar...Cooper Daigle went for 26 & 18 as Forest Hills beat Greenville...Nate Hebert had 5 3's for GNG in a win over Freeport...Drew Meader hit 6 3's for Boothbay as they beat Mountain Valley...Maya Cannon had 9 points to go with 18 rebounds for Medomak Valley. That's 3 straight games of 15+ boards for her...Alexandra Portas hit 5 3's as the GNG girls beat Freeport...Caroline Hartley had 22 of Scarborough's 39 in a win over Sanford...Breckyn Winship had 25 & 14 as Seacoast Christian blew out Temple...Madeline Hill had 24 points, 10 rebounds, and 7 assists for Valley...Levi Tibbetts had 23 for Lisbon over Madison...Johnny Patenaude dropped 29 as Poland put a big dent in York's chances at a bye...De'Angelo Alston had 33 as Scarborough rolled...Sunny Johnson's 24 & 10 led Seacoast Christian...Winthrop's Morgan Fichthorn (23) and Madeline Wagner (22) matched Madison all by themselves.
---
We have a virtual tie in the Stax Index today for the Game of the Day.
The Cheverus and Oxford Hills boys will be slightly edged out for the honor, but if you want to say that's the Game of the Day, I won't stop you.

The Southern Aroostook Revenge Tour continues tonight. It's not a long tour--they don't lose very often--and this is the last night, so catch it while you can. I don't believe there will be merch.
Southern Aroostook has the 1 seed in D North, so there's not anything to play for, outside of the revenge.
The top of C North, however, is pretty deep. We could potentially have over 10 10-win teams in the bracket.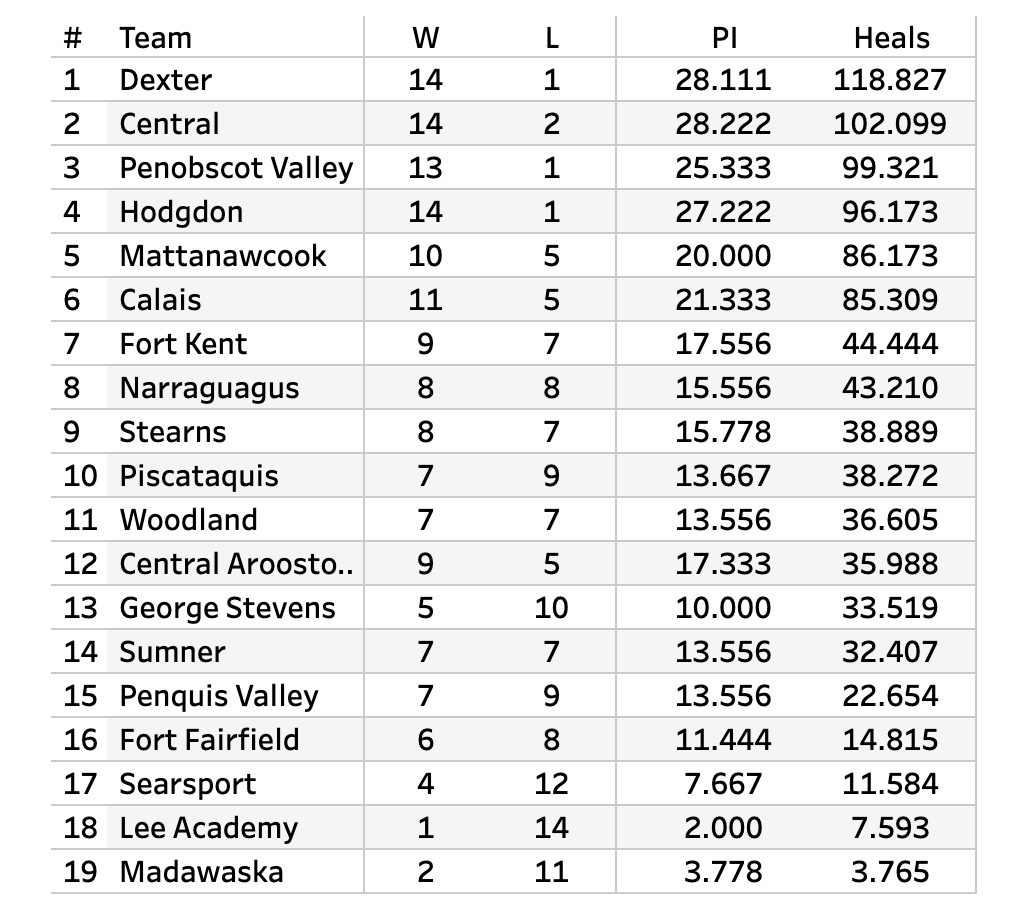 Dexter will be the 1, but as you can see, Penobscot Valley is right in the mix for one of the remaining byes. They're currently 3rd but obviously there's a lot of ways this could shake out. As far as the Howlers are concerned, they're 50% to get the 2 or they'll end up 3/4. But that's a big distinction, because there's only 3 byes in C North.
Penobscot Valley is 81.7% to get the bye (Hodgdon 75.5%, Central 42.8%). They've got a fall-back plan if they can't get this one, but this one would pretty much seal the deal.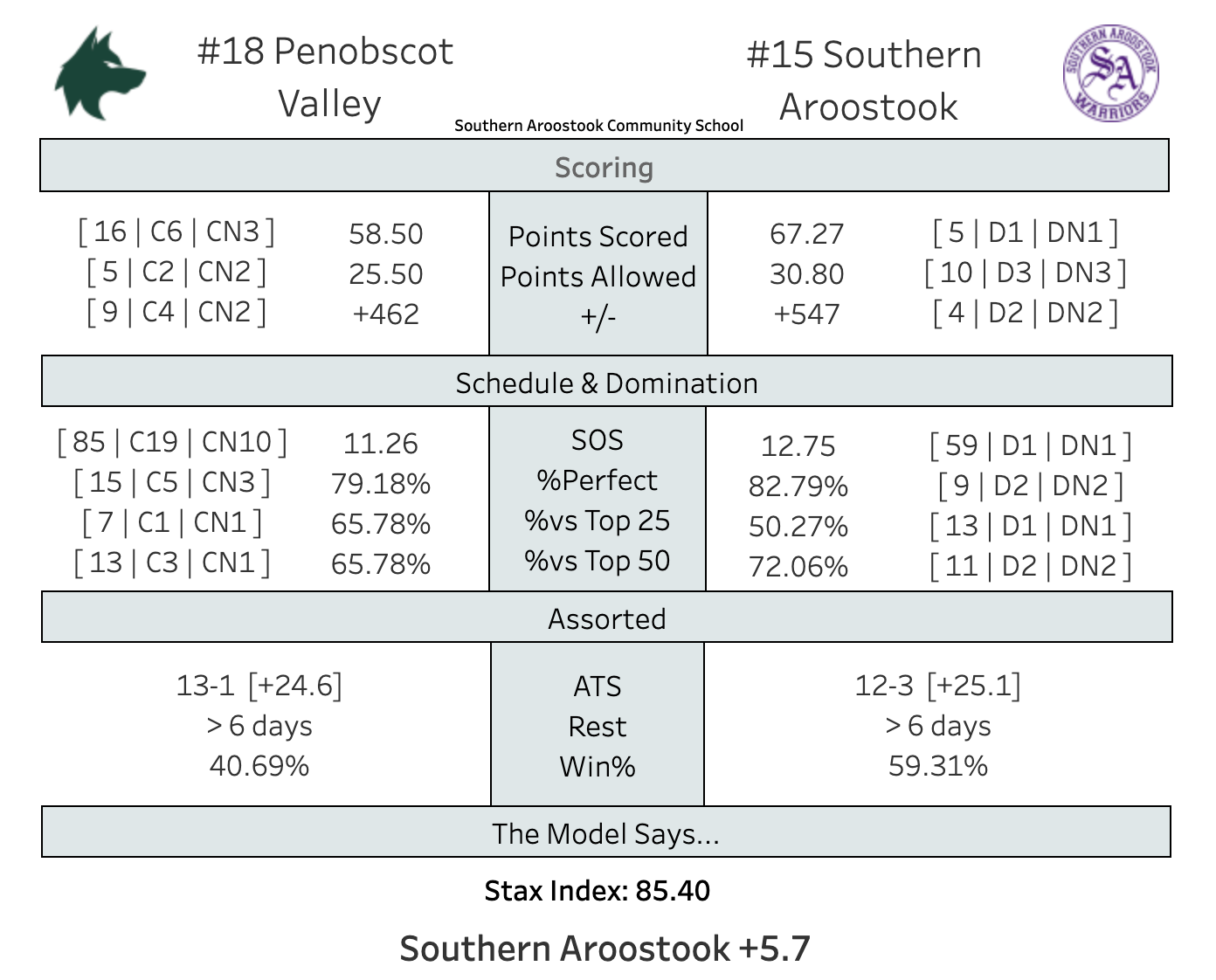 The rest of today's games are after the jump.