NYA+
NYA makes a big statement, Lake Region wins at the buzzer, some thoughts on classification, and a rivalry game in the midcoast.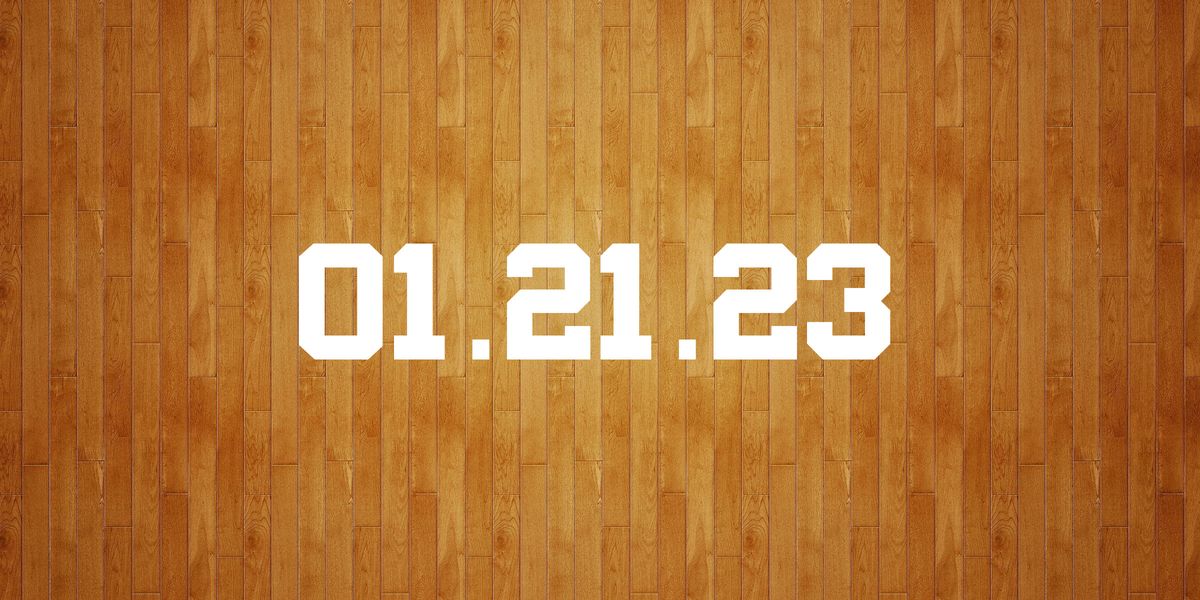 You'll have to excuse anyone who thought the NYA girls were in a little bit of trouble last night.
When your best player has 4 fouls in the first half on the road against the best team you've faced all year, it's natural to wonder if the wheels are about to fall off.
They did not.
It's a huge win for NYA, who is now clearly the favorite in C South. The Panthers also remain unbeaten against the spread.
Elsewhere...
The Lake Region boys got a big win over Greely, thanks in large part to this bucket from Evan Duprey.
Without looking it up, that's got to be Lake Region's first win over Greely in a while. The win also takes Lake Region from the outside of the playoff race to 9th in the Heal Points. So, yeah, that's a big win.
I fully expected a total washout of last night's schedule, but by my count 23 games happened, including:
Zach Poisson had 24 as Mount Blue beat Gardiner...Landen Johnson's 5 3s led the OOB boys in a comeback win over NYA...Portland and Falmouth went back and forth, but the Bulldogs were able to pull out a win. Remijo Wani led the way with 23....In the girls game, Anna Turgeon dropped 39 as Falmouth won at the Expo...Oh, and the other night Walker Oliver scored his 1,000th point.
---
As promised, I have some more thoughts on the big MPA meeting and the decision to reject the plan for 4 classes plus a "S Class" of the smallest schools. The caveat here is that I don't get invited to these meetings, so all my information is second or third hand.
I thought the move to add the S Class was pretty smart. It's an open question every year whether or not a D school will be able to field a team and it doesn't look like that's a situation that's going to be improving any time soon, so creating a class with a lot of built-in flexibility was a really good idea. So naturally it got rejected.
There were concerns about travel and a few other things, but there's always concerns about travel. Maine is a big state. There's lots of travel issues. There's no way to avoid that. I always find it a little weird when people complain about how much they have to travel when they live in somewhere like Ashland. Like, what do you think is going to happen? But on the flip side, people in Portland might have to leave Cumberland County every so often. It won't kill them. Talk to me when you've driven for 80 miles on back roads during a blizzard after a tourney game.
Look, there's no perfect system out there. Someone has to travel a lot and someone has to be the smallest school in a region. But you get the feeling reading the coverage of these meetings that there's schools who won't be happy unless they're the biggest team in their region and they get 18 home games. You can't just vote based on what's best for your school. An organization like the MPA is only as effective as what the members allow. Sometimes you have to vote for something that's good for the rest of the state and not you.
AA has been broken from the minute it was created and it's only gotten worse. Schools are reportedly complaining that they might have to play a Lewiston team that has won 1 playoff game in the 5 class era. One. Maybe they're scared of something else? I don't know. This is ridiculous and needs a massive overhaul. But do the members have the stomach for it? Or are they more concerned with making their path to a Gold Ball slightly easier? I guess we'll see.

We're back in Waldoboro for one of the bigger rivalries in the state.
Oceanside features the best offense in Class B--they scored 113(!!!) points against Belfast and have only twice been held under 65 points. The Mariners are currently in first place in B South, but their schedule isn't doing them any favors. They actually slot in as the 3 seed in the Tournament Odds, behind Spruce Mountain and Medomak Valley. It's essentially those 3 teams playing for the top 3 seeds, with a slight chance of Maranacook sneaking in there.
This is, by my count, the 18th consecutive 10-win season for Medomak Valley. Despite graduating their entire starting lineup, they are somehow the (slight) favorite for the 1 seed in B South, which is impressive even by their standards.
Oceanside won the opener at home in a game that could have gone either way. Can Medomak get the split? Whoever wins tonight will have a leg up on the 1 seed in B South.
LCTV will have the stream.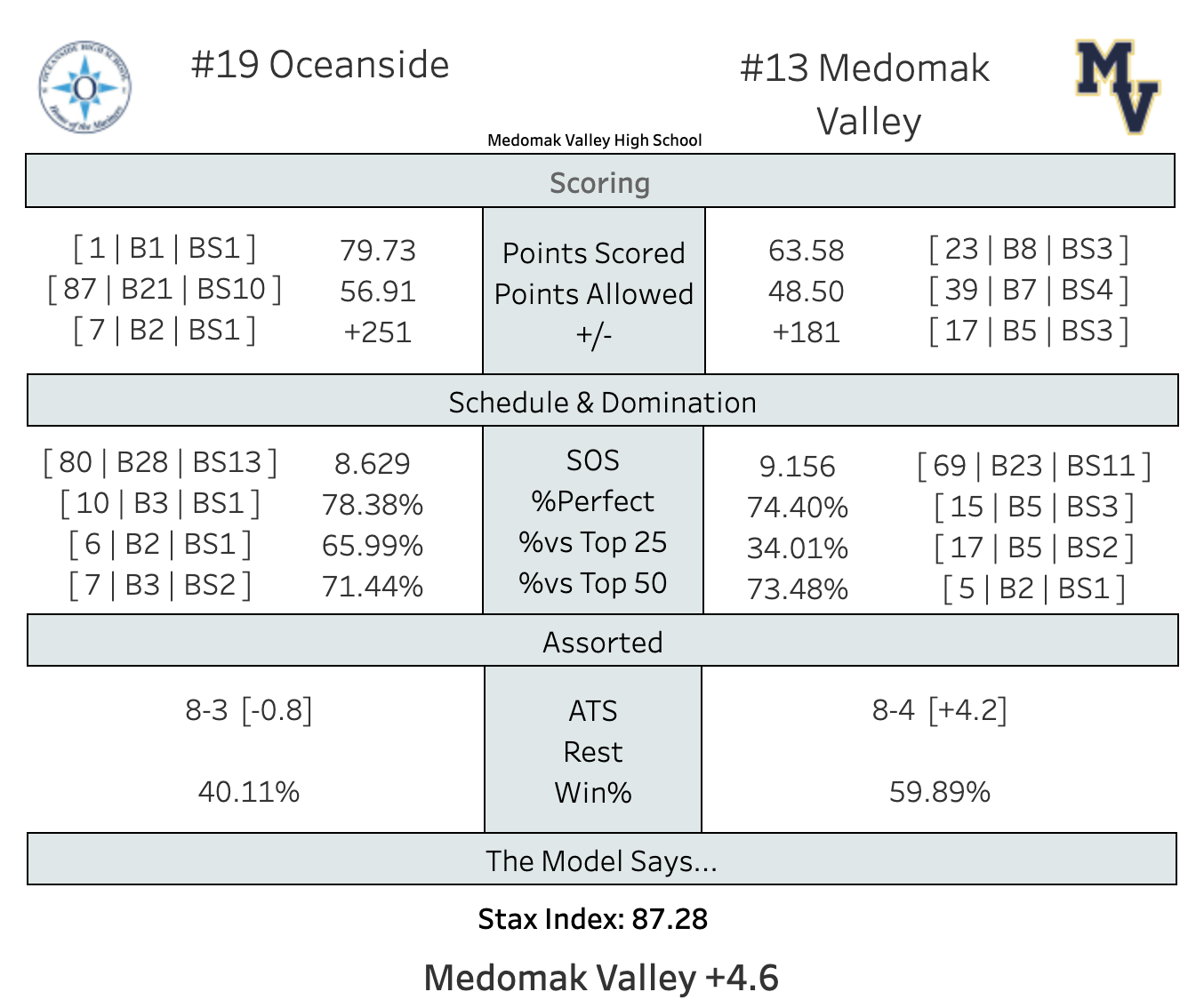 The rest of today's schedule is after the jump.
Boys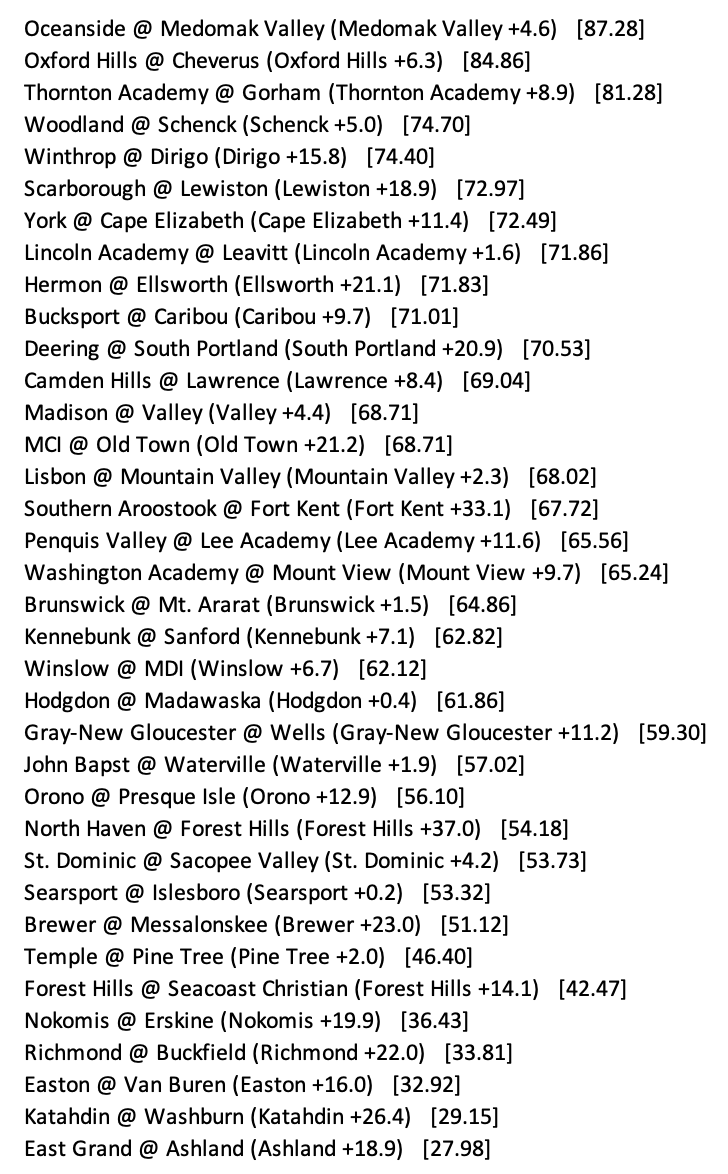 Girls