Midcoast Madness
The end of Medomak's bench comes up big, Oceanside rallies, and Lincoln Academy announces their arrival.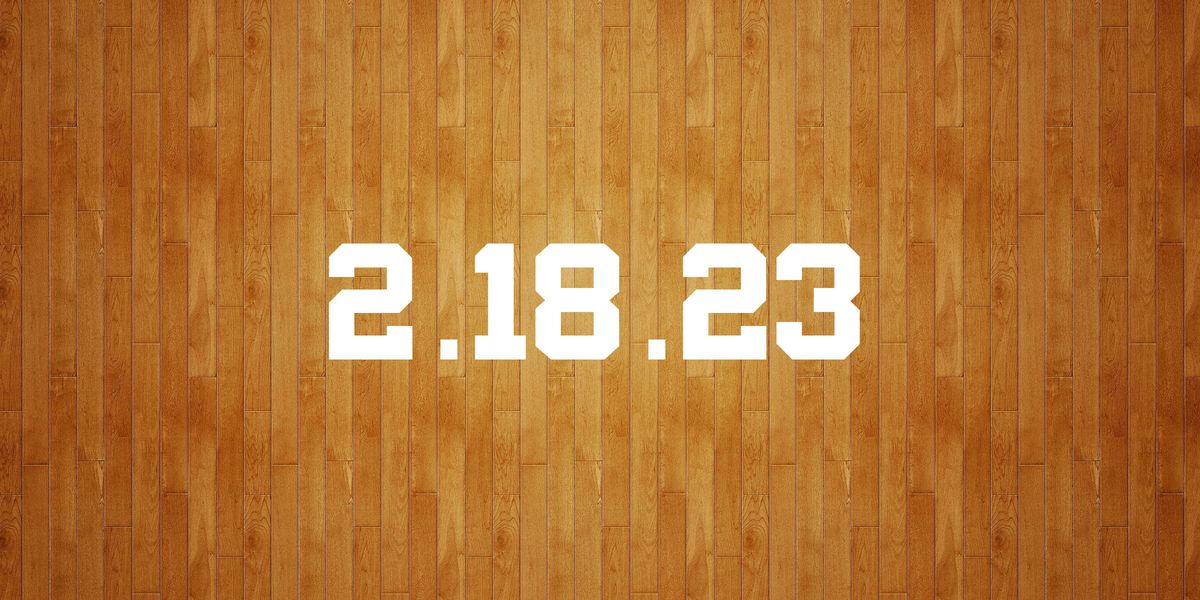 One of the great things about tournament basketball is the unexpected. No matter how much you scout or practice, no matter what sort of fancy computer models you build, there will always be something that surprises you. And you never know where it'll come from.
With about 6 1/2 minutes left in the second quarter, Medomak Valley was struggling. Their starters were all either struggling from the field or on the bench in foul trouble. Jaiden Starr went to the bench with his second foul and in came sophomore Vishal Mellor, who was probably the smallest player in the B South quarterfinals. He's in the game for about 20 seconds before he front-rims a shot and then he just flies into the paint and rips the ball away from a York player who had probably 5 inches and 40 pounds on him. And you immediately thought, maybe this is a moment. A couple of plays later he assists on a Kevin Sincyr 3 pointer to get Medomak within 1. York stretched the lead out back out to 5 and Medomak brings in freshman Luke Cheesman, who isn't much bigger than Mellor. He gets steals on consecutive possessions, Mellor takes a charge and starts to get to the line and all of a sudden Medomak enters halftime with momentum.
In the second half, Gabe Lash started to get going (he finished with 16 & 13) and Sincyr got hot from 3 (he had 20 to lead all scorers), but it was Mellor (9 points in 13 minutes) and Cheesman  who keyed the rally. Medomak stretched the lead to 10 before York got hot and hit 4 3's in the final 2 minutes, but it was Mellor and Cheeseman who were on the floor to close it out.
---
In the late game, Sam Lombardo very nearly had a shooting night for the ages. He was 9 of 11 from the floor as Cape led by as many as 13 in the 3rd quarter. But you knew Oceanside would make a run and, sure enough, they did. Oceanside went on an 11-0 run to get back in it, as the Galley twins took over. Carter had 19, including some very clutch 3's and Cohen had a couple of ridiculous finishes around the rim to get 15.
Lombardo finished with 21 for Cape.
---
And before all that, Tucker Stiles hit 2 free throws with 0.1 seconds left on the clock to force overtime in a very foul-heavy game (not to mention the litanny that weren't called). Lincoln Academy ramped up their defensive pressure to 11 in the extra period to pull away from Spruce Mountain.
---
Over in Bangor, we had a stunner that sent a ripple through the crowd in Portland.
Adam has a full story over at the BDN on it.
---
And there's this stat from Augusta that I can't even wrap my head around.
---
I'm also having trouble with this stat.
---
Oh, and Ellsworth just tied a record, no big deal.
---
It feels like there were a hundred game and I'm sure I missed a lot.
Here's a reminder to get your All-State nominations in, like, today.
Here's your updated Gold Ball Odds: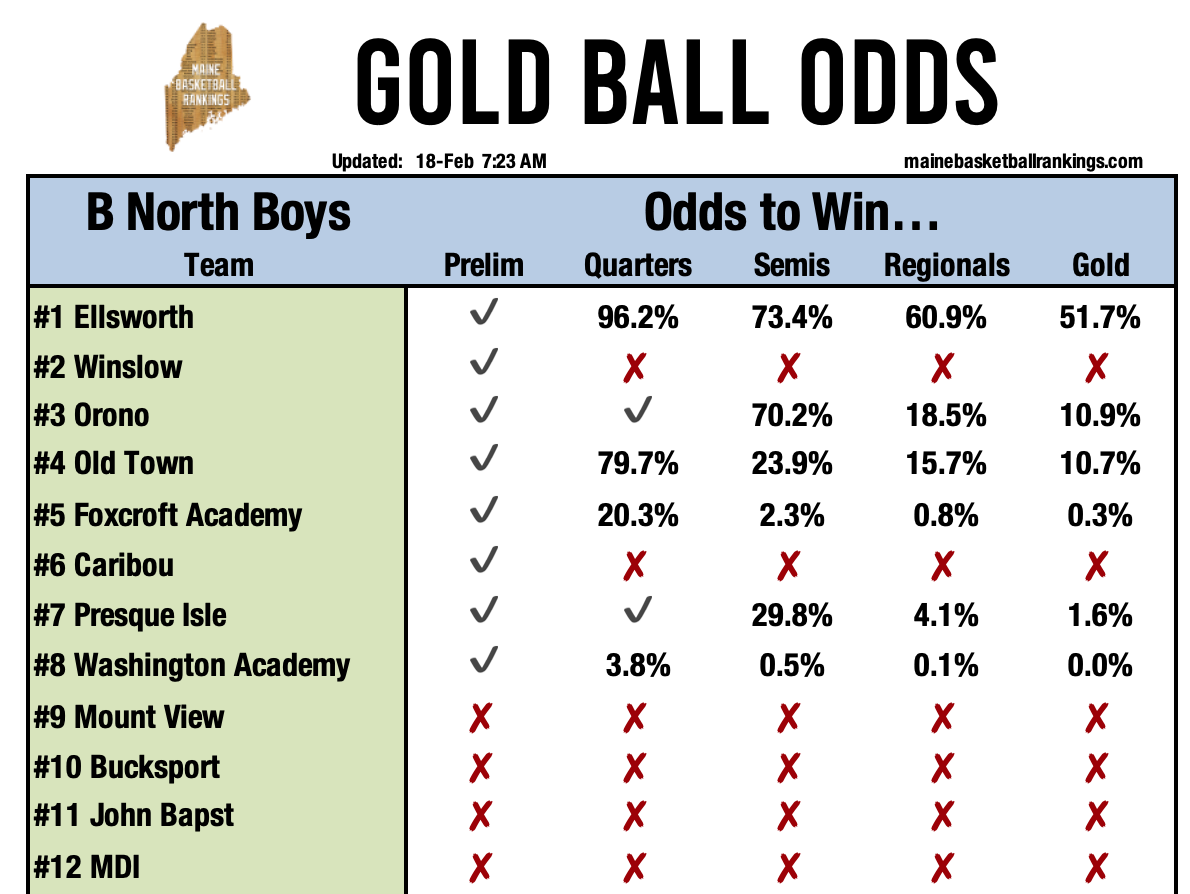 Here we go with Day 2!
Remember there's live stats today from the B South Quarterfinals at the Expo and, depending on factors, either the A South Quarters or the A North Quarters.

Today's Game of the Day is in Augusta, where Mount Blue takes on Cony in a 4/5 matchup.
Mount Blue is led by Evans Sterling (17.6 PPG) and Chandler Briggs (13.3 PPG). They're a high-scoring team, with the 2nd best point differential in A North behind Brewer and were the first team to put a scare in the Witches.
Cony is led by junior Parker Sergent (20.1 PPG) and are famously no strangers to the high-pressure environment of the ACC. As is their tradition, they are in the top 10 in the state in scoring.
This has the looks of a high-scoring affair. Get a good seat.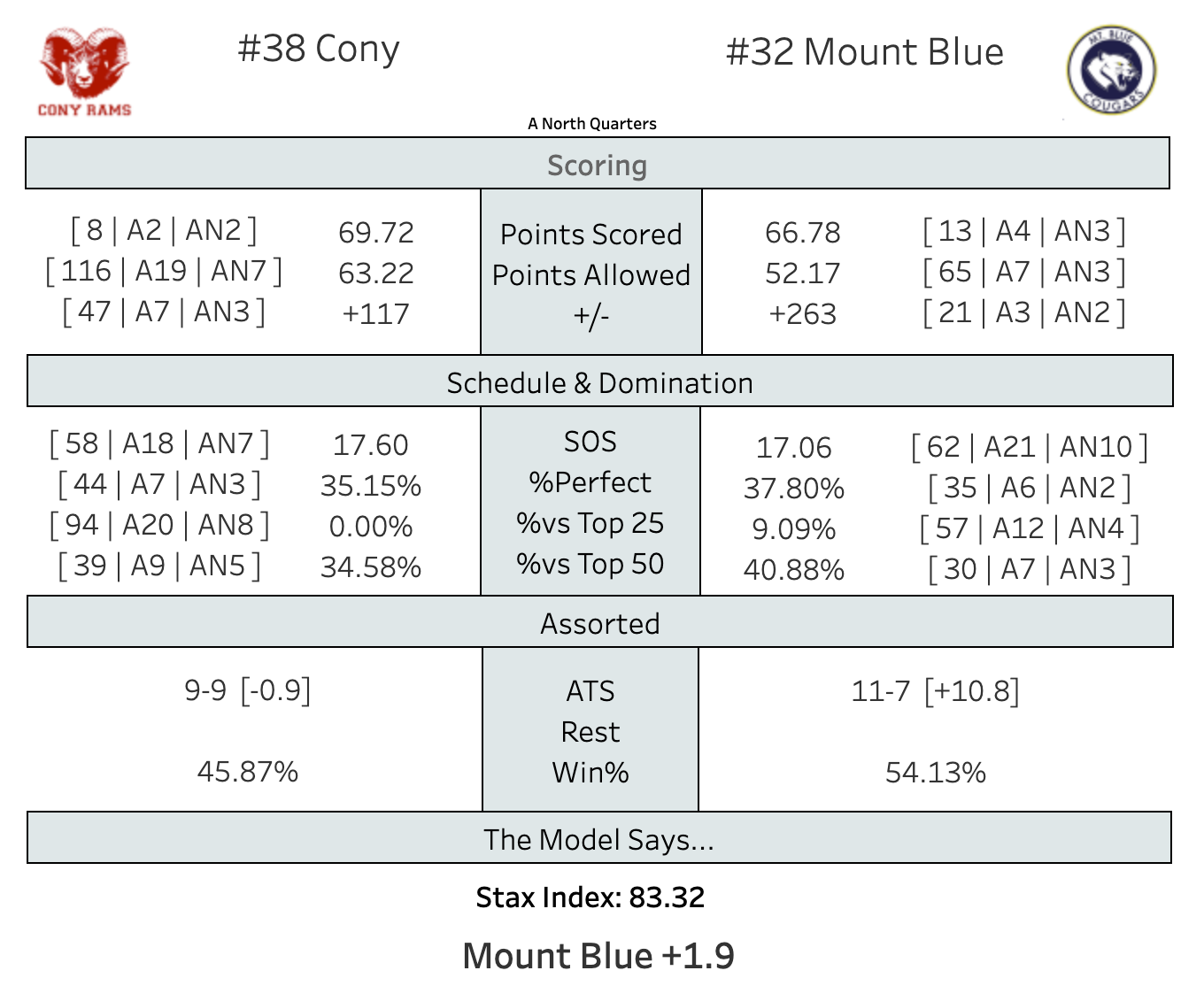 The rest of today's games are after the jump.