Island Life
The Vinalhaven girls pull off a MASSIVE comeback.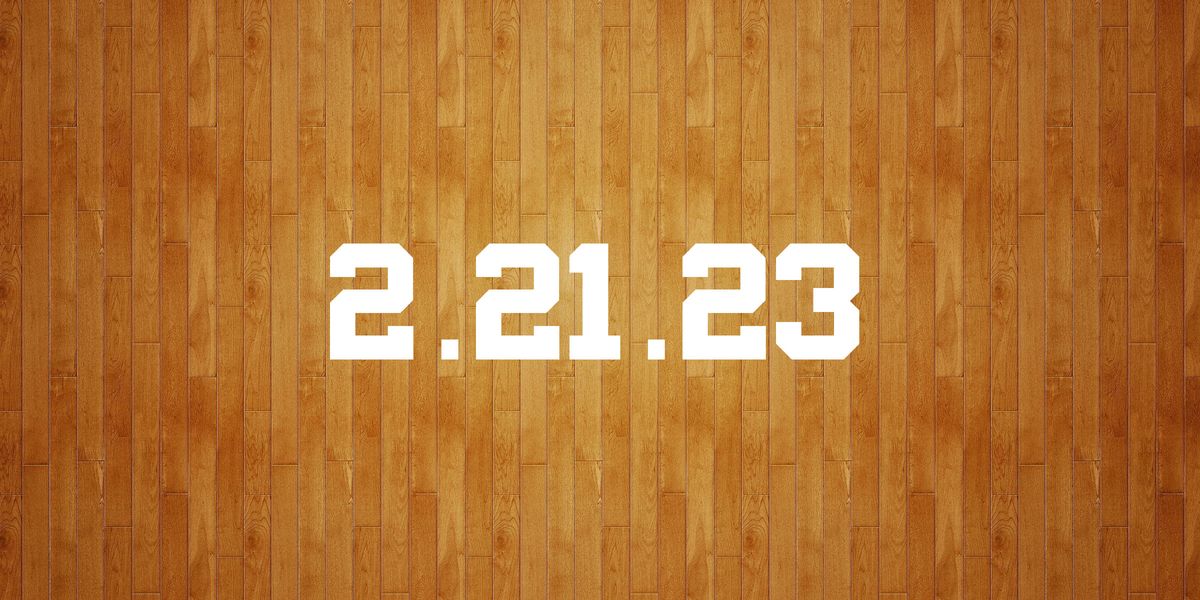 If you were in Augusta for Monday's morning session, you had no idea what you were in for. The first 2 games went about as expected--they were low-scoring, not close Class D girls games. A lot of people dread these games but I like them. Any time you've got a team with only 6 or 7 kids on the roster, there's an extra level of dedication. Especially with a team like North Haven that has only 8 girls on their roster because, as Mark Haskell pointed out, they've only got 8 girls in the entire school.
Imagine if every kid in your school went out for basketball.
But after 2 not-close games, you'd be excused if with 6 minutes left in the third quaterer of Vinalhaven/Pine Tree game you starting thinking ahead to the C South quarterfinals later in the day. After all, Pine Tree was up 31-12. For a Vinalhaven team that averaged 27 points a game in the regular season, a 19-point deficit in the 3rd quarter might as well be a million. It's the equivalent of, what? The Oceanside boys being down 50?
Also, they hadn't even attempted a 3-pointer yet and weren't in any hurry to do so.
While no one was paying attention, the Vikings started to chip away at the lead. Scoring picked up a little for each team and by the end of the 3rd, the margin was 12. But, still. Twelve points for a team that scores 27 a game?
But Vinalhaven didn't quit. Instead, they started to press, getting the ball out of Chantal Bazizane's hands (she dominated the first half) and forcing mistakes. They forced 14 Pine Tree turnovers in the 4th quarter. Led by Chelsea Waite's 6 4th quarter steals, Vinalhaven went on a 13-0 run to pull within 1. With 22 seconds left, Lydia Wentworth scored to send it to overtime.
For a while, I was convinced we were going to double overtime. It had that feel.
Other people had other concerns. Because when you're an island school, you can't just go to overtime. There are factors.
Both teams had chances. So. Many. Chances. It was both painful and exhilarating. Vinalhaven went 5/22 from the line in the 4th quarter and overtime and nearly every one of them felt like it would determine the game. Pine Tree shot 17% from the floor in the 4th quarter and overtime as they desperately tried to hold on to the lead and, again, every time they broke the Vinalhaven press you felt like the dam was going to break. But it never did.
There were 82 turnovers and it was pretty awesome.
In the end, Maddie Miller made 2 free throws with 8 seconds left and Lydia Wentworth stole the inbounds pass. Vinalhaven won 48-46 and, yes, that's their highest scoring output of the year.
Oh, and:
If you don't love a game like this, then you don't love basketball.
---
With the impending snow storm on Thursday, the MPA proactively moved a bunch of games to Wednesday, including Vinalhaven's semifinal matchup with Valley. That was slated to be the first game of the Thursday session and it's now the first game of the new Wednesday morning session that starts at 8:30am. But...the ferry.
Would it kill the MPA to flip the games around?
This has long been a pet scheduling peeve of mine. We lock these seeds into these time slots, but what if we didn't? What if it was a little dynamic so that the teams that are 20 minutes away play the first/last games of the sessions and not the teams that have 2 hour drives? It wouldn't be that hard. Call it a safety issue.
---
Anyway, back to Augusta.
At the time, it felt like a nice warmup for the rest of the day. We had an impressive performance in the first half of the Forest Hills/Pine Tree boys game as Mason Desjardins went 5/8 from 3 in the first half and Forest Hills was threatening to break the record for 3's in a game, but he didn't bother to take a shot in the second half. Luke Carey put up a fantastic 33/7/4 as Carrabec pulled off the upset that was bigger than an upset:
You gotta love to see a team break through like that. Go Cobras!
In the end, none of the games were close at all with most of them being 15 point margins in the first quarter.
When the games aren't close, you find other things to follow and one of my favorite tournament things is the random cool kids you find.
So let's go to Portland for the Girls A South quarterfinals, which started off with a bang.
This is definitely a big upset. Mt. Ararat was an upper-tier A South team that a lot of people thought would be in the Regional Final. But this was a topic of discussion in Augusta. Freeport had won 6 of their last 7. They beat Spruce Mountain. They were kind of sneaky good. They were a team you could talk yourself into picking, no question about it. If this were March Madness, they'd be the "smart" upset pick.
In the next game, Greely got off to a slow start.
I know they're the 7 seed, but it's still Greely. The Rangers improved in the second half and got to 25, but that's still a shocking result.
In the other games, Anna Turgeon had 22 as Falmouth advanced. They'll face a Brunswick team that blew out Westbrook.
In Bangor, Southern Aroostook took care of Jonesport-Beals, but not before the Royals had a moment.
We had some nice history for the Bangor Christian boys.
But Bangor went chalk. Augusta went largely chalk. Portland had the 1 upset.
Here's what I know about tournament basketball: there's always a chalk day. Looks like yesterday was that day. But a chalk day is usually followed by a day of sheer chaos. So buckle up.
---
Here's your periodic reminder that you can do more than yell from the stands.
I will say that the officiating in the tournament has been noticeably worse than it was in the regular season. I actually remember thinking that the quality of officiating had gone up, but that's certainly not been the case at the Expo. So if you think you can do better, you might be right! But take the classes and get your zebra outfit or STFU.
---
It's a big day in Midcoast Maine as 5 of the 8 teams in the B South semifinals are separated by 25 miles of US Route 1. So it's fair to assume most, if not all, of Lincoln and Knox Counties will be in Portland today. Lincoln Academy, coming off their first tournament win in forever, will try to take down the defending champs from Yarmouth, and then we've got a Oceanside/Medomak Valley doubleheader.
But that's not the Game of the Day.

If you're going to the Expo for the Midcoast Maine triple-header, make sure you get there in time for the first game in the session.
Spruce Mountain went 17-1 this year, with the lone loss coming to Freeport (that loss looks a lot better today), and nearly got the 1 seed in B South. Despite all the questions about their conference schedule, they came in and blew the doors off York in the quarterfinals. They're deep and tough and they could very much win the entire region.
They'll face a Wells team that's been a little bit of a surprise. After their graduation losses, I think people thought they might have a little bit of a down year, but they've been in the mix all year.
Wells' Kendall and Maren Maxon combined for 26 points in the quarterfinals.
Spruce's Jaydn and Jazmine Pingree combined for 26 points in the quarterfinals.
Who's going to the Regional Final?
I'll be there with live stats. It should be electric.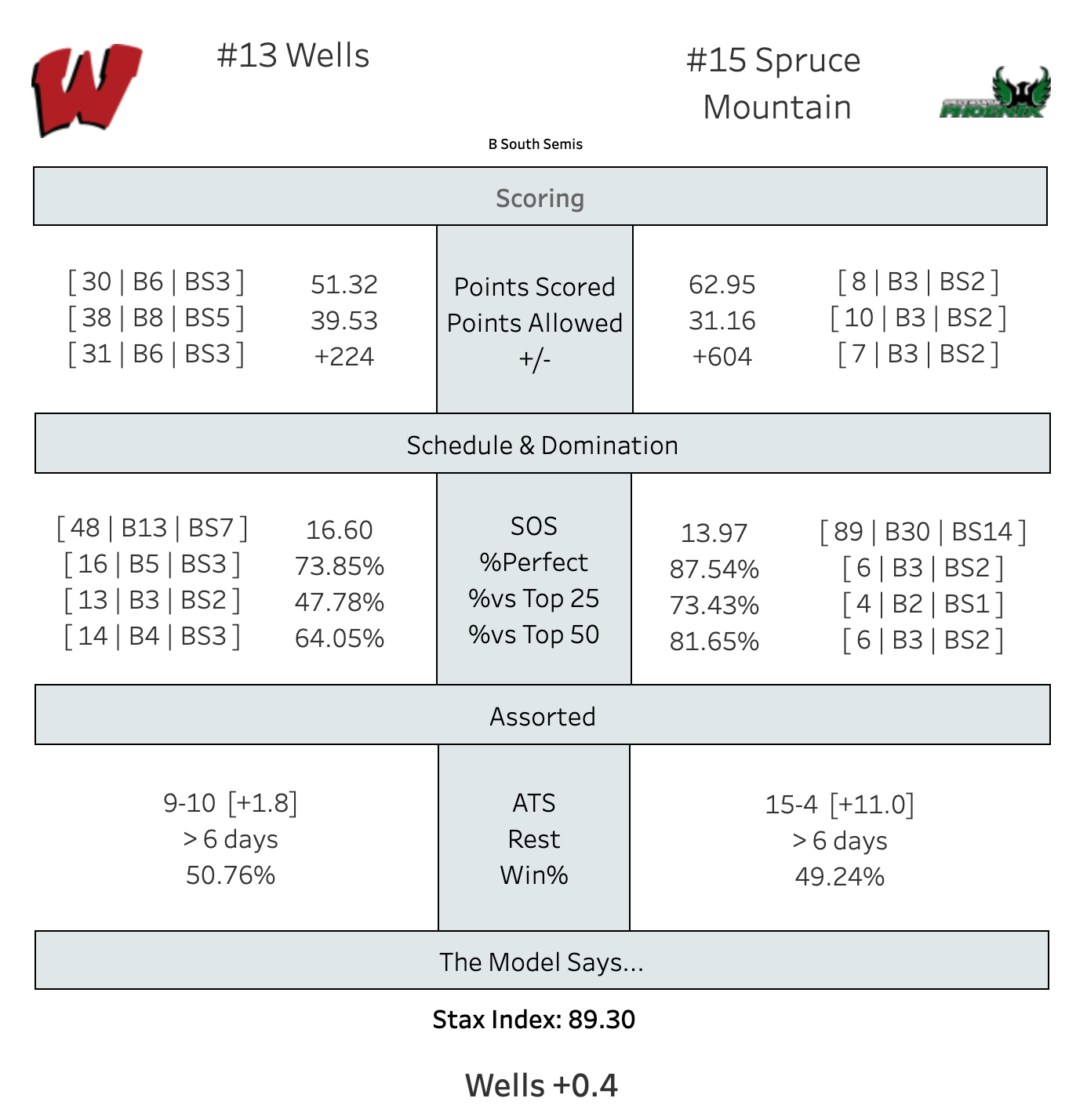 The rest of today's games are after the jump.