Gold (Foot)ball Preview
It's time to hand out some gold balls in football. Who's got the edge?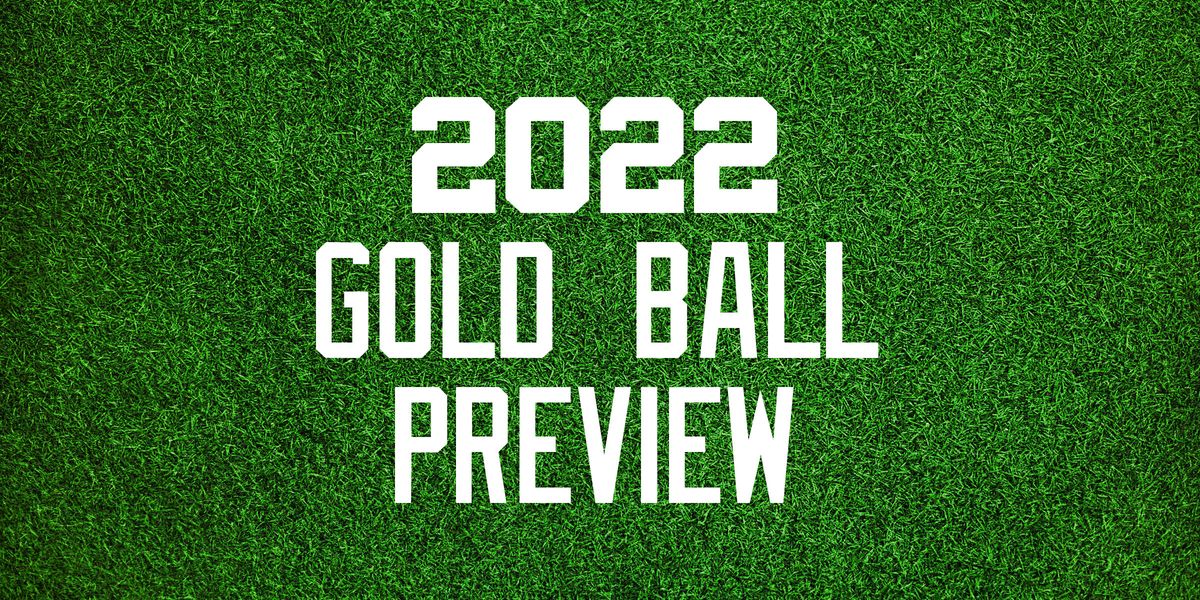 With snow falling across most of the state, our thoughts turn to basketball season, but first, there's some unfinished business.
Below is a preview of all 4 11-man State Championship games with a look at some of the numbers behind the games. The rankings next to each team indicates where they are in the Power Rankings, not their seeding.
Class A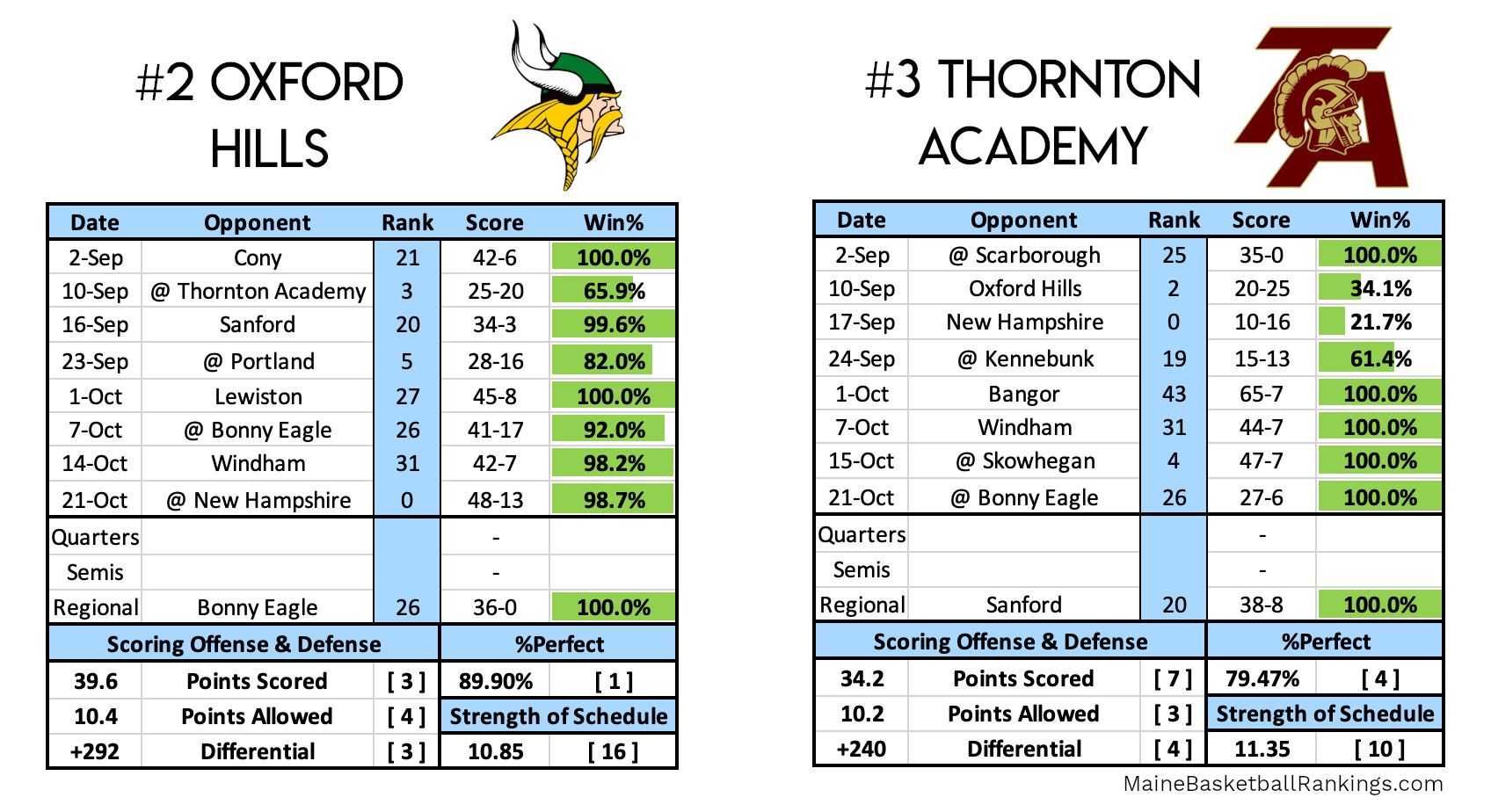 These two teams met all the way back in early September, with Oxford Hills winning a close one.
You'll notice that both teams played unranked "New Hampshire". The Model needs the opponents to have a profile and I'm not making a separate Model for New Hampshire teams, so all those teams are lumped together as one common opponent.
Anyway, after that initial matchup, the Vikings have hardly been tested. Meanwhile, Thornton Academy's defense has been suffocating since the calendar turned to October, holding opponents to single digits in 5 straight games. They'll need that defense to show up against the 3rd highest scoring team in the state.
Class B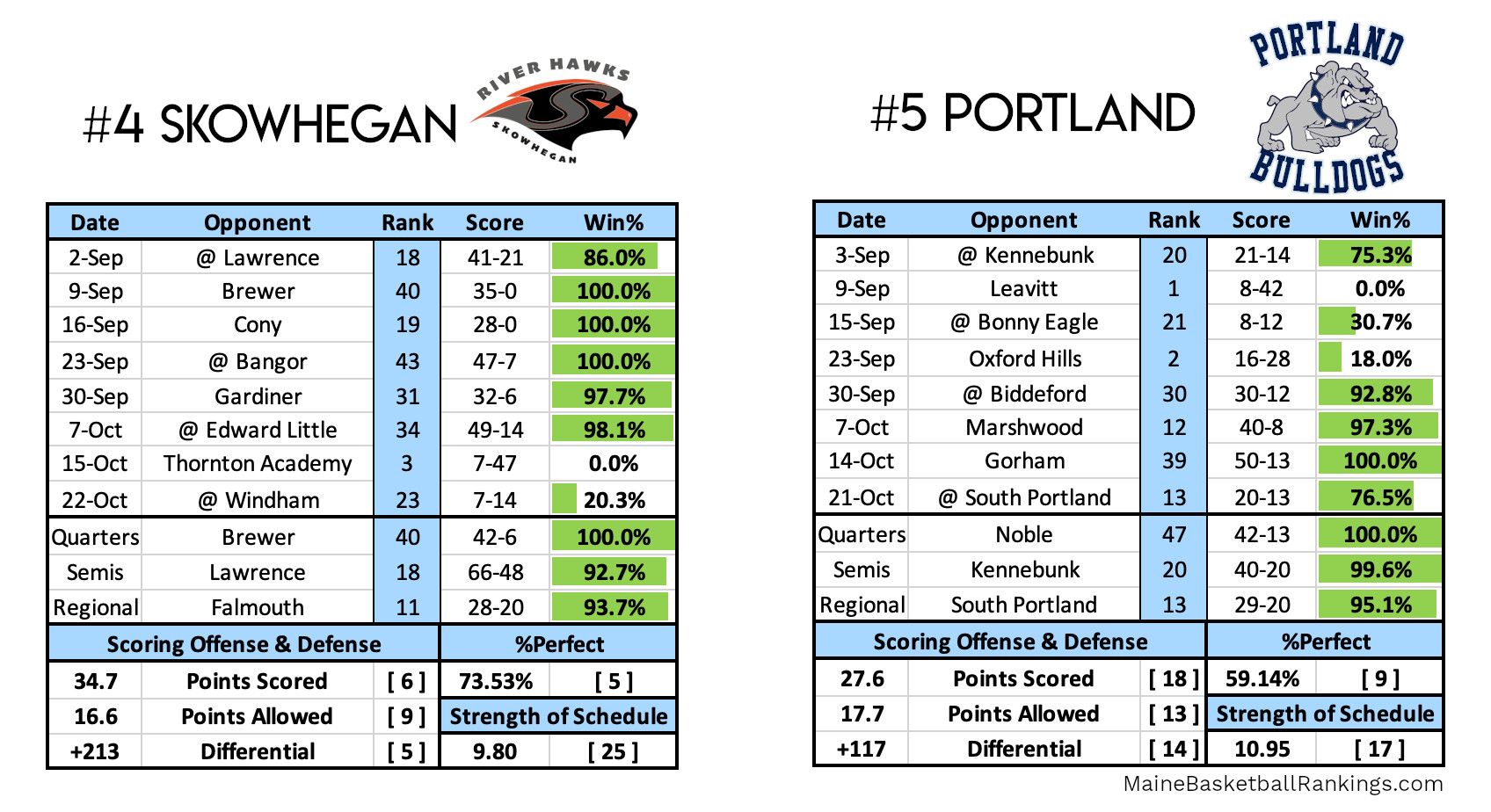 If you take Skowhegan's game against Thornton Academy out of the equation, they look unbeatable. But it's worth noting that was their only game against a team in the top 10. In basketball, this is usually a red flag, but the shorter season and smaller sample size has to be taken into consideration. Couple it with the fact that in the 7 games against teams outside the Top 20, the River Hawks gave up 5.7 points per game. But against teams inside the Top 20? That number jumps to 34.
At a glance, it looks like Portland started slowly and then turned a corner and without even reading the newspaper coverage, I'd be willing to bet that's the narrative. But I present to you that maybe they just played the 2 best teams in the state in their first 4 games and it's really hard to win those games? Because they sure seemed fine after that.
Class C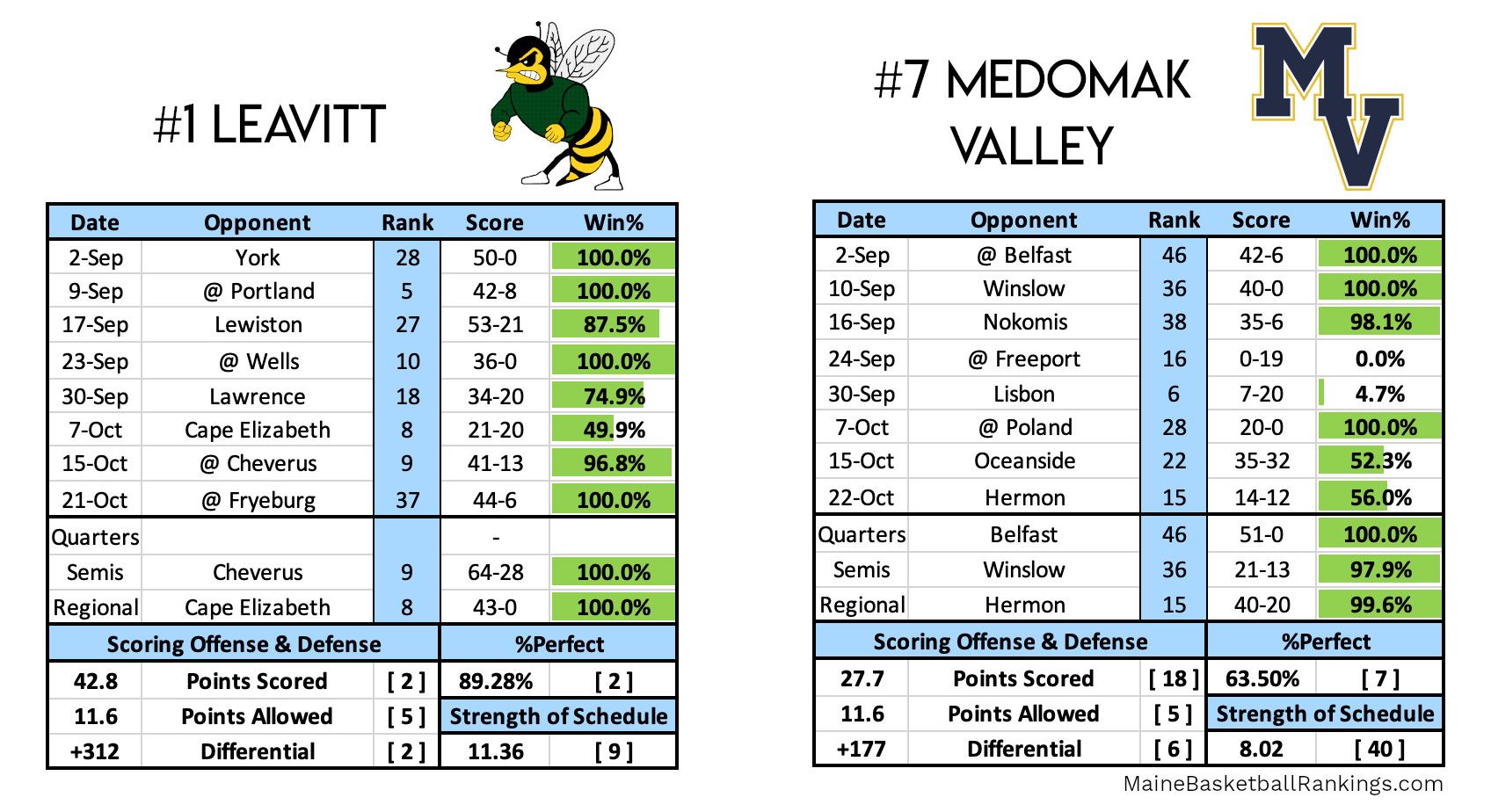 Leavitt is clearly a juggernaut. They had one close game against Cape Elizabeth and everything else has been a blowout, including the Regional Final against Cape Elizabeth. And not just blowouts, but blowouts against a daunting schedule. It's not hard to see why they're the favorites.
But that Medomak profile is interesting. They had 2 bad games in September. Is it a fluke, a bad week, or did they just run up against their ceiling? The Regional Final against Hermon was impressive, beating a team by 20 that most people (including the Model) picked to win. This is a young program in their first Gold Ball game. Do they have enough to pull off an upset?  
Class D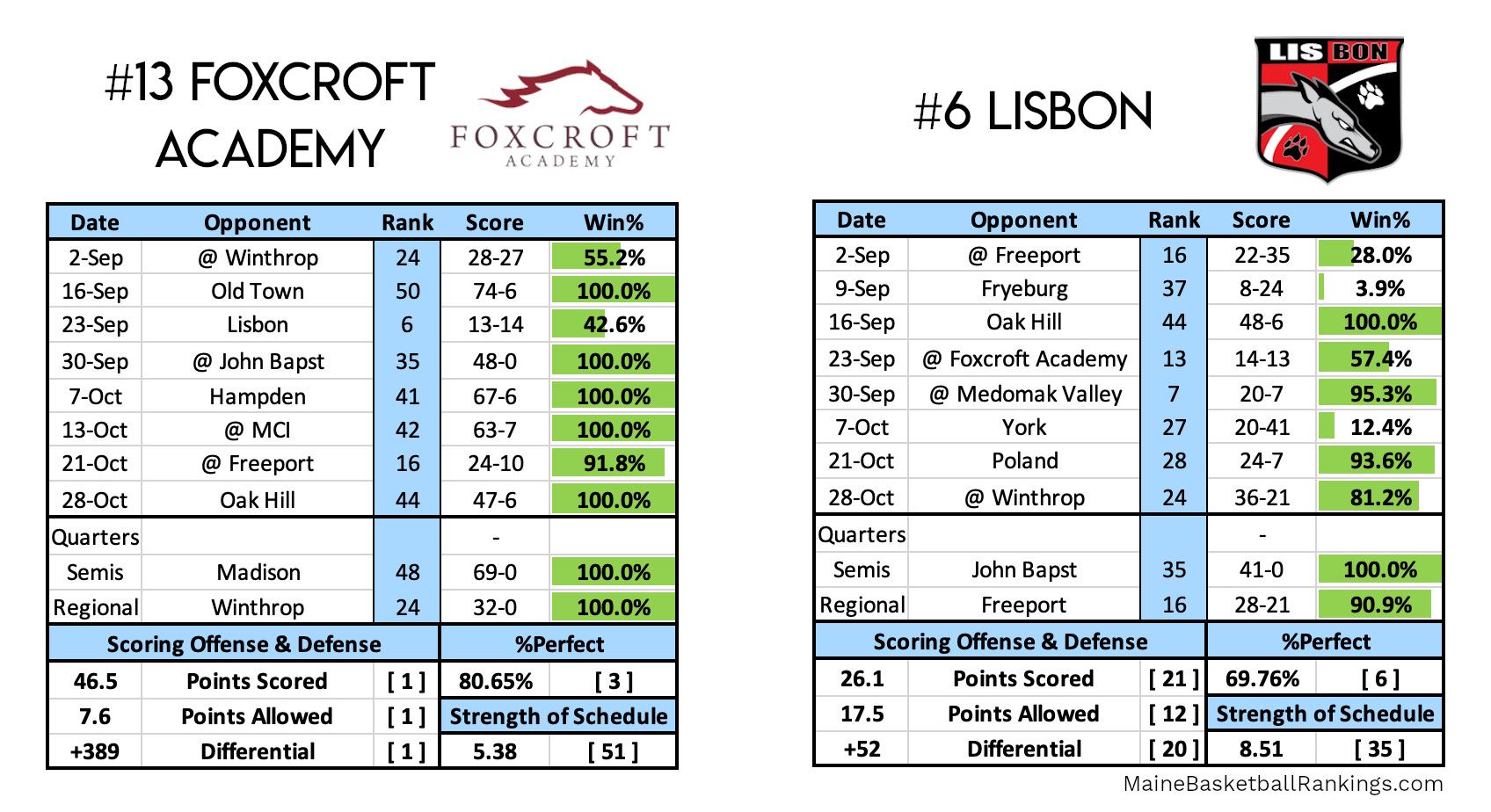 You would think the team ranked first in the Crabtree Standings would be ranked higher, but the Model isn't that impressed. Sure, they're first in scoring differential but they also played the easiest schedule in the state and it wasn't particularly close. The wins over Freeport and Winthrop are nice, but the Model isn't convinced yet that this team is for real.
As for Lisbon...I don't know what's going on there. They got blown out by #37 Fryeburg, then beat Foxcroft and Medomak back-to-back on the road. But then they lost at home to a York team that was outscored by nearly 10 points a game. So which Lisbon team will show up? This could be a Foxcroft blowout, a Lisbon blowout, or come down to the final play and none of them would surprise me.
The Model's Picks
If you're new to this website, the Model predicts games at a solid clip. In the NBA's Bubble playoffs, it out-performed FiveThirtyEight.com predictions against the spread by a wide margin. It gets high school basketball games right at a rate in the low 80% range and as the spread goes up, it gets deadly accurate.
New in this iteration of the website is that the picks are going to be for subscribers only, for the simple reason that they're worth it. Also, this is a very time-intensive endeavor and I don't have the amount of free time I had 3 years ago. For basketball, the picks will be at the paid level with some occasional days where they'll be free. This is one of those days.
The picks are free with a free subscription. Subscribe! You'll get emails with fantastic basketball content all season long! There's no obtrusive pop-up ads!