Calendar Overtime
Wiscasset wins!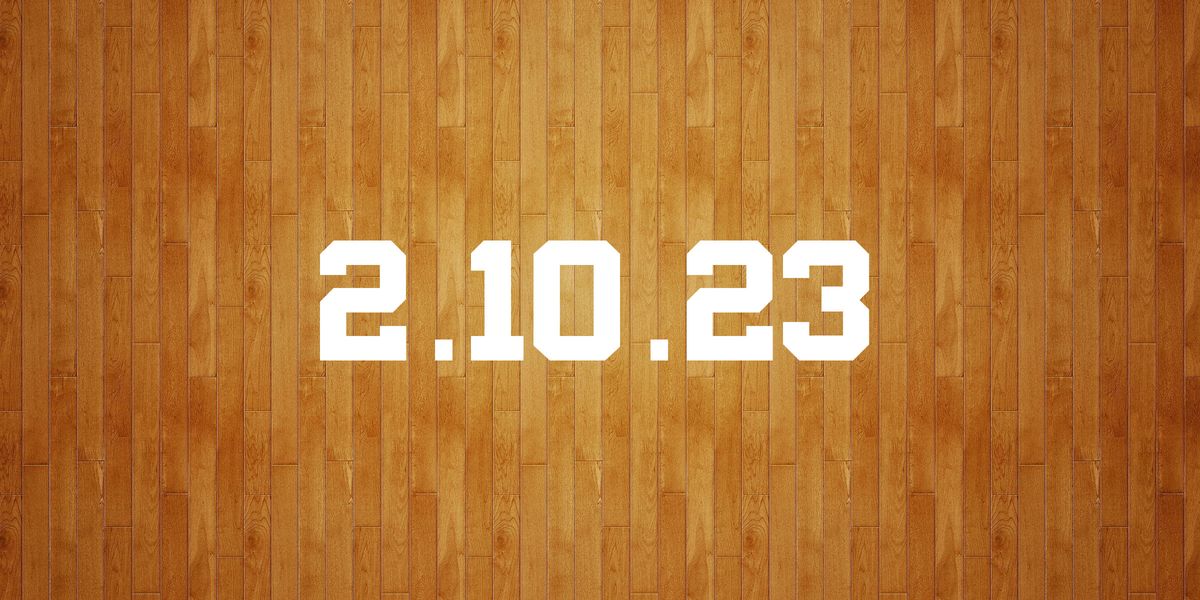 We were supposed to be done, but with all the scheduling chaos, the MPA made today the new final day. So it's basically an overtime period for people who forgot to factor in the possibility of snow.
In the Game of the Day, Andrew Perry converted an old-timey 3 point play and hit a layup with 4 seconds to play to give Marshwood a 43-41 win over Westbrook.
They will be the 3 seed in A South.
But the real game of the day was in Wiscasset. Yes, Wiscasset.
The Wolverines entered the day with a 68 game losing streak and seemed destined to carry that into the off-season. They were a 21.9 point underdog to a 6-7 Vinalhaven team, but I guess no one told them that.
The Wolverines won 47-41 to snap that streak and jump all the way to 16th in the Heal Points.
The entire game is on YouTube, but I made a clip of the ending.
The camera person got so excited about the win that they forgot to pan with the team to follow the celebration. These are the little things you learn on the road to building a winning program.
The Wiscasset win nearly flipped some seedings in C South and B South, which is just further proof that the Heal Points are amazing because Every. Game. Matters.
---
Speaking of which, the Mountain Valley girls came into yesterday's action feeling pretty confident about their chances to make the tournament. The Tourney Odds had them at 91.6% to get in and for good reason. They had guaranteed help points that would move them from 11 to 10 and still had a game against Monmouth that could have gotten them as high as 7. So they should be ok.
Except...York had a win over Kennebunk and Kennebunk had a game left against Falmouth and the Rams were an 11-point underdog (24.3%) on the road. But, as they say, that's why we play the games. Kennebunk upset Falmouth and now it looks like Mountain Valley is on to softball season.
Sometimes the Heal Points can be a cruel mistress.
Elsewhere...
Julius Silva tied Biddeford's school record with 7 3's as the Tigers sunk the Shipbuilders...the Deering boys got in the win column against Scarborough...Charlie Houghton dropped 26 on Mountain Valley...Maya Gayle forced overtime at the free throw line and Deering was able to capitalize on the extra minutes to beat Scarborough...The Lincoln Academy boys saw 10 different players make a 3 as they blew out Belfast...Nathan Corey hit 7 3's for Temple...Ella Pelletier had 22 as Oxford Hills beat Hampden...Will Davies dropped 26 as TA overcame a halftime deficit to beat Sanford.
---
Coaches!!!
It's time to submit your players for the Maine Basketball Rankings All-State team consideration.
It's been a while, so a quick reminder of how this works. The All-State team doesn't care about social media or TV highlights or the politics of All-Conference voting or what AAU team you're on or even mentions in this newsletter. It doesn't care if you're in Portland or Ashland. All it cares about is what you do inside the lines.
There's a form to submit your player's stats. Those stats then get converted to EFF and that is then adjusted by the strength of your schedule (so that player in Ashland will need better stats than the player in Portland). That's it! Having said that, I do need all of those stats. So if you don't track player turnovers, I can't use it.
I'll announce these before the quarterfinals, so get your stats in now!
---
I wrote yesterday about how the GNG boys would be the 3 seed in A South. Turns out that was incorrect. The Tourney Odds spreadsheet wasn't giving them credit for beating Freeport. Once I fixed that glitch, they went from the 3 to the 2.
There's something like a combined 22 million cells in the Tourney Odds spreadsheets and 1 cell on the GNG page screwed everything up. Details matter.
I apologize for the error.
---
Last night was the last game at the old Edward Little gym, baring some miracle where Troy Barnies swoops in and buys it.
We pick this up with seconds to go and Edward Little trailing Lewiston 41-40 (ignore NFHS' scoreboard).
If you've got to go out, go out in style.
Just throwing this idea out there into the world: what if we keep the gym and get rid of the NFHS streaming? Just saying.
---
On to Brunswick for a rivalry double-header with Mt. Ararat.
And then further south where SoPo wins at the buzzer AGAIN.
Whew.
---
Lizzy Gruber put up a 20/15/12 triple-double on Senior Night as Gardiner reached a couple of milestones.
In addition to the 36-0 record at home, that's the first 18-0 regular season for Gardiner. They've won 38 straight at home, dating back to a loss to a Skowhegan team with some freshman named Jaycie Christopher.
---
A New Hampshire school district is limiting games to "immediate family" only after a fight broke out. This, of course, is on the heels of that Vermont middle school game where someone died after a fight broke out.
I don't want to be the bearer of bad news here, but I don't see how limiting a game to immediate family members is going to fix things when the problematic fans are very often the parents.
---
I've been toying with the idea of doing some extra content, potentially video-related, so I set up a YouTube channel.
As the kids say, smash that subscribe button! (did I do that right?)
---
There's not a lot left on the schedule. But there's still a little bit of work to be done.
One note: if you're looking at the Tourney Odds, there's a flipped Hermon/MDI boys score that's skewing the final spot in B North. There's a fix on the way but that might not finish processing until the game tips off.
I thought I was done with that spreadsheet for the year, but nope.
The score is correct in the Heal Points.

And now we come to the end.
There's not a lot in flux for this game, but it isn't completely meaningless. Let's look at the Heal Points.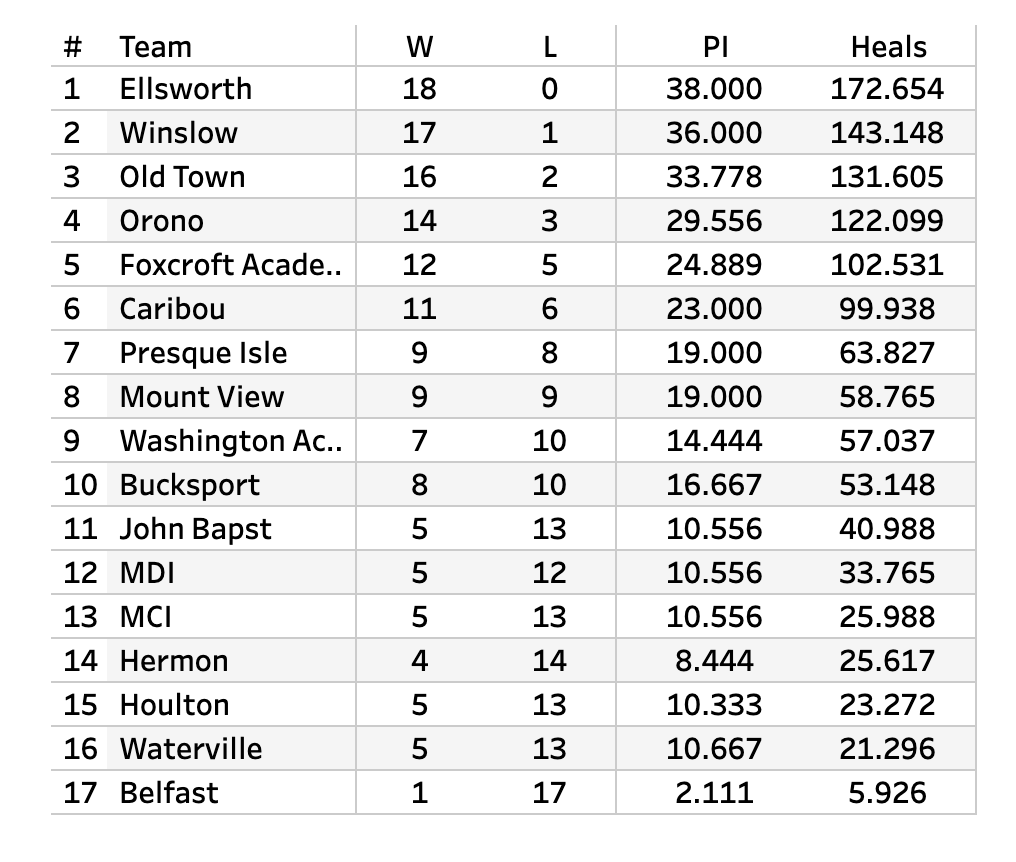 Orono is currently sitting in 4th in B North. A win tonight should be enough to get them past Old Town and into the 3 seed. With a win they get the 3 seed 85% of the time, so there's some combination where Orono wins and stays 4, but honestly I'm too tired to figure out what it might be. My guess is that's a combination of 2 upsets.
For Caribou, they're currently sitting 6th. Obviously a win tonight would get them past Foxcroft, but Foxcroft is also playing (Presque Isle). If they both win, Foxcroft would go to ~123 and Caribou to ~125, not counting any help they might get. They split on the season, so those help points would cancel each other out.
That wouldn't be enough for either to pass Orono for the bye, as Orono has enough built-in help coming.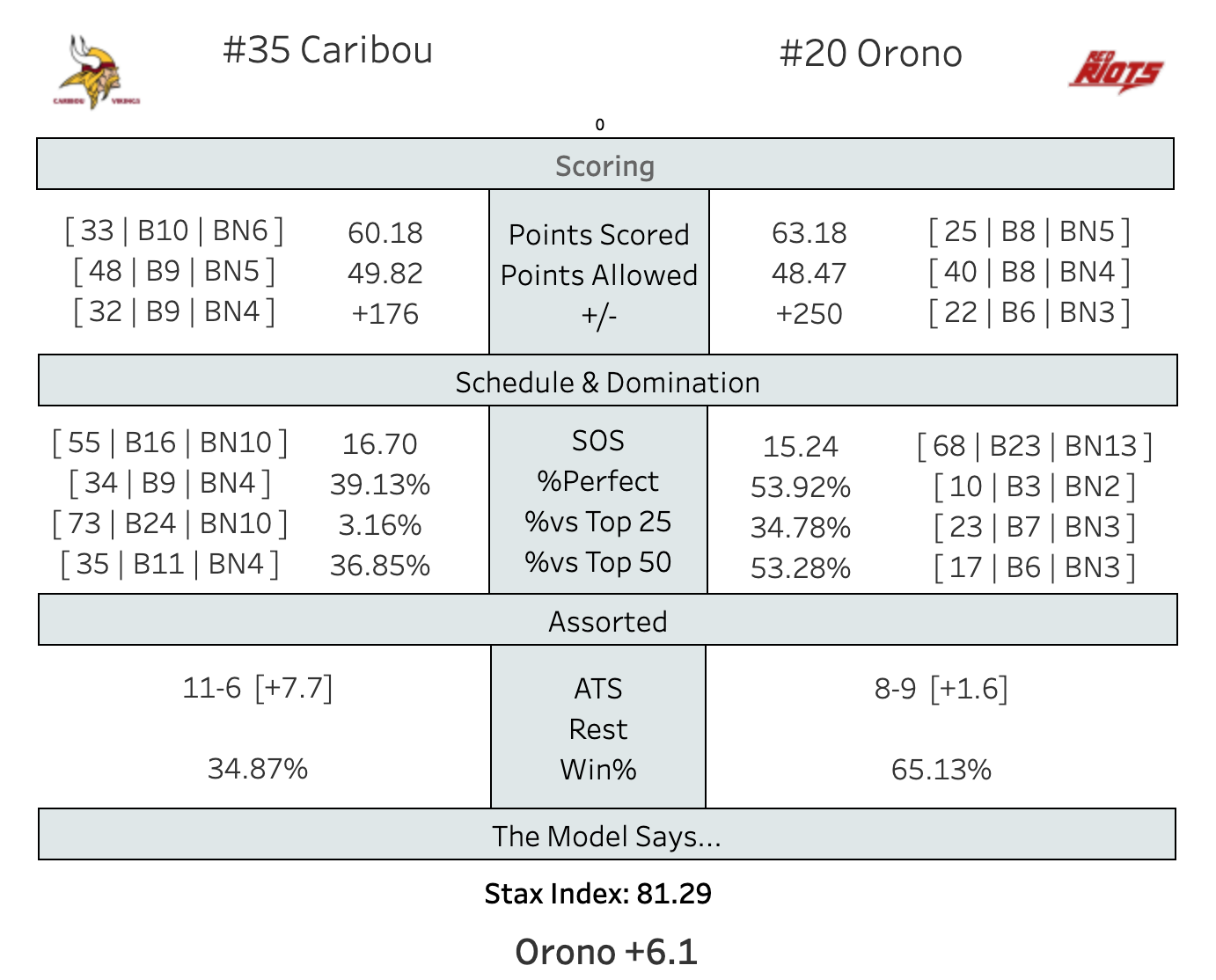 The rest of today's schedule is after the jump.