All's Wells
Wells snaps OOB's win streak, lots of movement in C South, Dirigo rallies, TA makes a statement, and some great sportsmanship out of VT.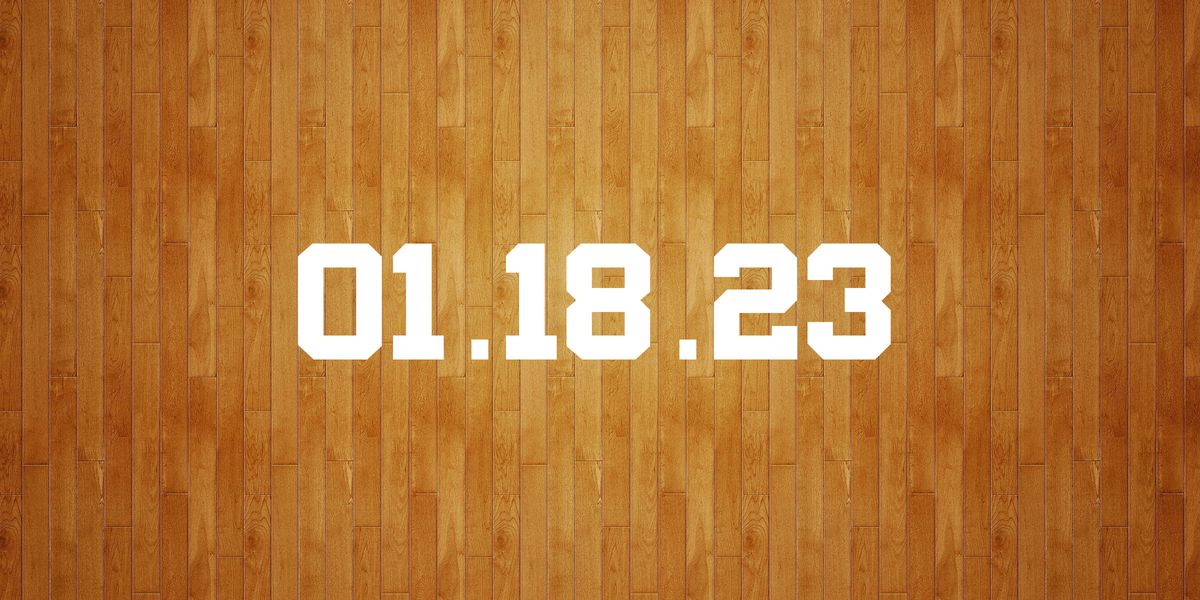 At the Beach, OOB gave Wells everything they could handle, even leading into the 4th quarter, but Wells got hot late and came away with a 7-point win on the road. The win moves them within help points of Oceanside for the 2 seed.
OOB falls to 2nd in C South as the NYA girls blew out Winthrop behind Angel Huntsman's 17 points and 16(!) assists and ascends to the top of the Heal Points.
It was a little bit of a "Moving Day" in girls C South as the top 7 teams all had big Heal Point games and, as expected, it all got a little bit shuffled.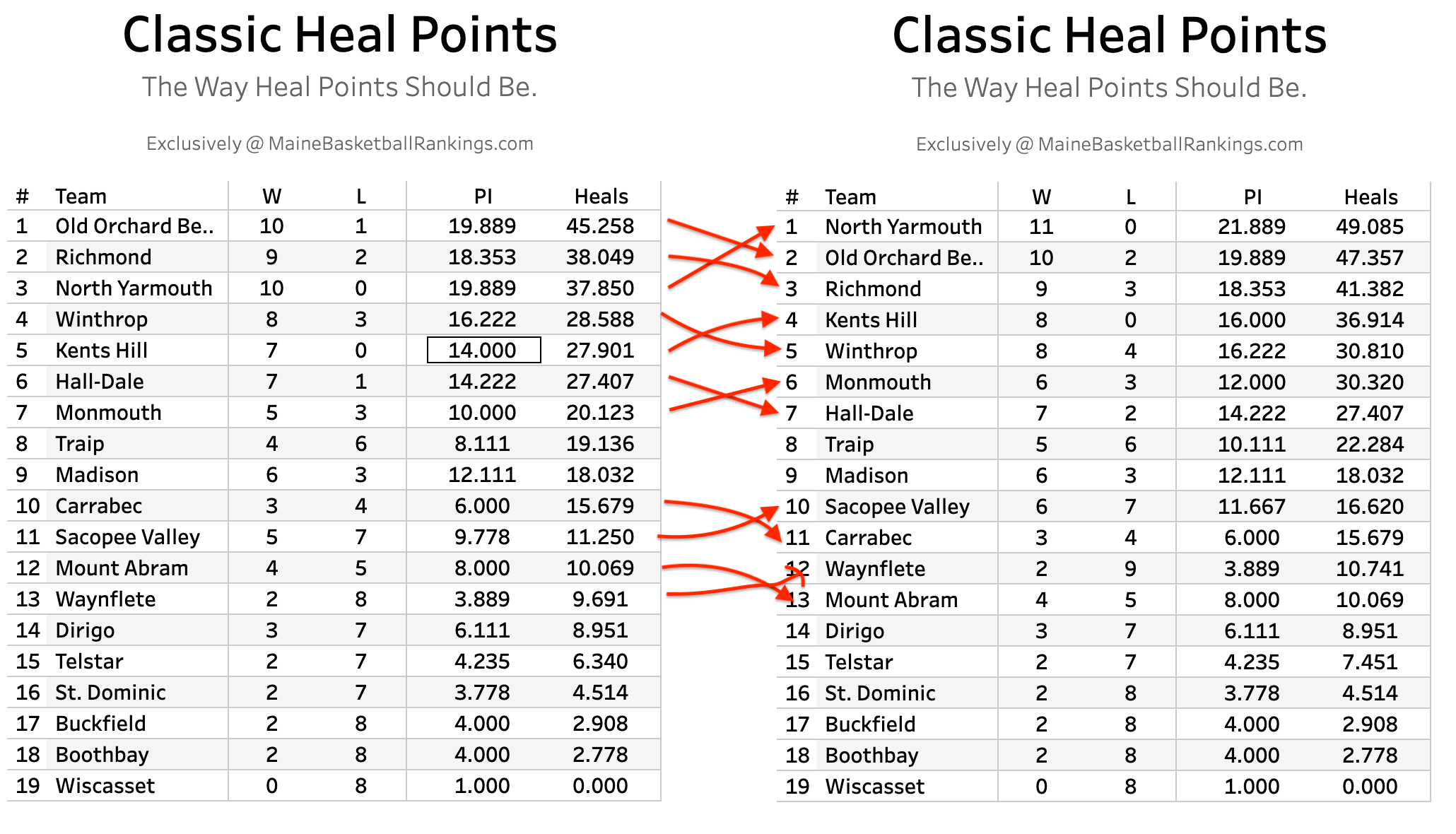 There's 7 teams in this region in the top 50 in the Power Rankings and 7 (not the same 7!) who have a scoring differential of at least +100, so this could get chaotic down the stretch.
Let's check in with the Dirigo boys, who were 17-point favorites at Carrabec.
Charlie Houghton had 25 to lead the comeback as the Cougars continue to cling to a very small lead in C South boys.
In Saco--in what should have been the Game of the Day (before I called an audible)--the Thornton Academy boys hosted a 9-2 South Portland team.
I believe we call that a statement win. SoPo had a slim chance of the 1 seed in AA South, but unless TA falls apart, that dream is over.
Around the state...
Lizzy Gruber had a triple-double of 36 points, 15 rebounds, and 11 blocks as Gardiner cruised past Messalonskee...The Seacoast Christian boys closed on a 17-2 run to beat Sacopee Valley by 11....Harry Louis had 32 on the road as Valley beat Greenville...Rose Jenkins dropped 26 for Kents Hill as they stayed perfect...Kaitlyn Frost had 21 and Holly Hunt 22 as Monmouth survived a double OT thriller with Richmond....Madi Dow had 16 rebounds as Mountain Valley won in OT...Kayleigh Wagg had 15 & 10 as Mt. Ararat beat GNG...Addisen Sulikowski's 27 fueled a TA comeback over SoPo.
---
Here's a great bit of sportsmanship from a JV game in Vermont.
No one is more excited than #21 on the opposing team. You love to see it.
Now compare that to this situation in North Carolina.
That game was eventually postponed and charges are being filed.
Be like the people in Vermont, not like the people in NC.

I'm not sure how we managed to get this deep into the season without a trip to the A South boys, but here we are. (Actually, I do know. They always play on the same night as AA.)
Anyway, let's start with the Heal Points, shall we?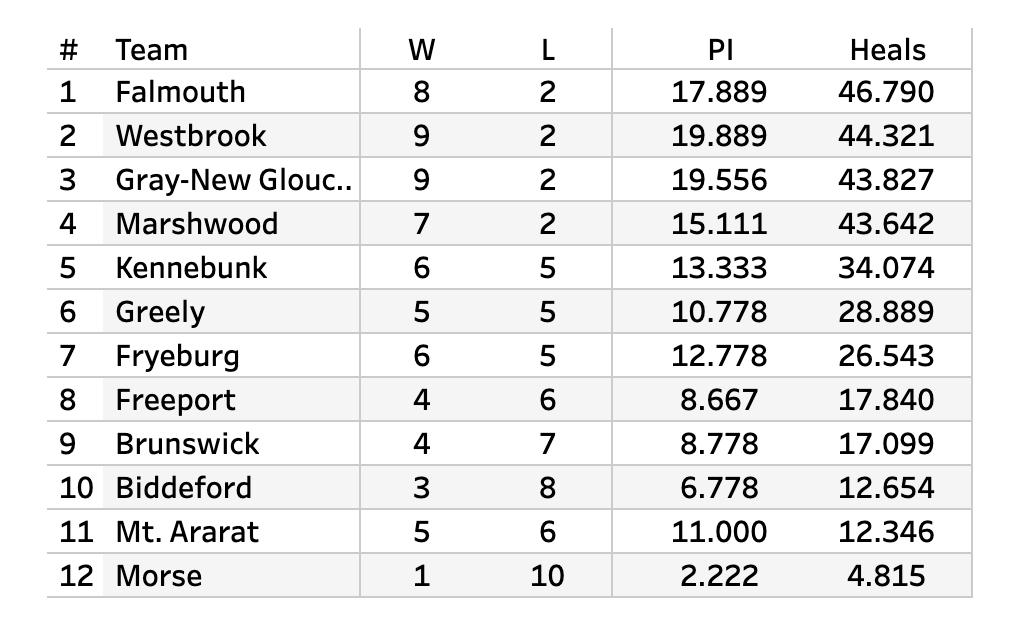 You don't need me to tell you that's packed. 8 teams will go directly to the Expo here with no prelims, so seeding could be everything. The top 4 all have a shot at the 1 and the 1/8 prelim game and in a region where 7 teams have a positive scoring differential, that's clutch.
The MPA has Marshwood in first place, but they aren't.
Coming into yesterday's action, Westbrook and Marshwood had a combined 36% shot at that 1 seed, which was greatly helped by Marshwood's win over Falmouth on Friday.
This looks like a mess, but it's really rather simple: these 2 teams will play each other twice. Westbrook still has 2 games left with Falmouth, but it looks like Marshwood will have more Heal Points available to them down the stretch. Both these teams could still drop out of the top 4 and no one wants that. It's a crucial matchup for both teams.  
It looks like this is a NFHS game.
As always, the rest of today's schedule is after the jump.