A Red Riot Dagger
SoPo wins at the buzzer and Cony has a miracle rally.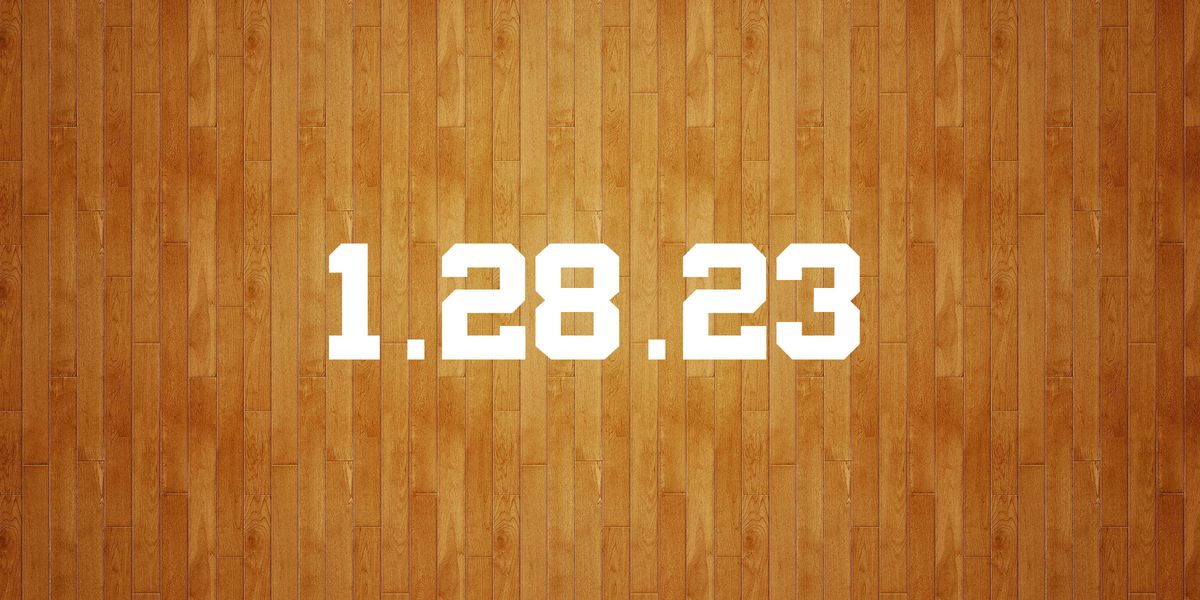 In the Game of the Day, Will Davies had 19 points as the Trojans opened a 36-15 halftime lead over Falmouth. They improved to 12-2 and have a 25 point lead in the Heal Points.
The Navigators drop to 2nd in A South as Westbrook took care of business against Mt. Ararat. Both of those were predicted outcomes, so it shouldn't swing the Tourney Odds too much, but it will clean up some of Westbrook's "worst-case" outcomes.
---
Over on Insta (I'm told that's what the kids call it), the youth at Orono were throwing shade at Foxcroft.
(Did I do that right?)
But if you're gonna trash talk your rival, at least have the balls to say you're going to cover the spread (Orono was favored by 9).
The good news for Orono is they won by 22, so they were able to back up the talk on the court.
---
Let's go to Standish, where Bonny Eagle was clinging to a 2-point lead over South Portland.
Jaelen Jackson called Game.
He had 23 on the night.
---
Over in Farmington...
The action starts on MBTV at the 1:29:00 mark. The intentional foul is...certainly a an interesting call to make at that juncture. Time & Score isn't just for players!
Around the state...
Lizzy Gruber had 25 & 22 (with 4 blocks) as Gardiner beat Nokomis...Maya Cannon's 18 rebounds and 4 steals helped Medomak Valley avenge an early season loss to Leavitt...Thomas Harvey's 30 led Brunswick past Biddeford in a squeaker...Luke Carey's 21 paced Carrabec to a win...Sawyer Hathaway's 16 points and 10 rebounds led Leavitt to a win at Medomak Valley...Bailey Breen had 21 & 10 and Audrey Mackie hit her 200th 3 as Oceanside won their 45th straight. Carter Galley had 27 for the boys as the Mariners completed the sweep of Camden...The Lincoln Academy boys beat Maranacook to clinch their first 10-win season since 2015...Cali Pomerleau's 15 points and 7 steals got Mt. Ararat past Westbrook...Brooke Landry's 24 led Sacopee Valley to a win over Seacoast Christian...Teigan Pelletier had 28 to lead Oxford Hills, but Deering beat the spread (that's for you, Greg)...Remijo Wani had 17 & 13 as Portland won in Bangor...Liam Garriepy (24) and Landon Cougle (27) dueled as Scarborough beat Edward Little in OT 86-82...Freshman Nya Avery had 24 & 12 for York.
---
You may or may not have seen this over on Celtics Twitter. This guy has been designing a new alternate Celtics jersey for every win.
They're pretty fun.
There's a lot of games on today's schedule as teams scramble to get games in.
10 dates on the calendar after today.

We're heading to the County!
Entering last night's action, Old Town was locked in as the 1 seed and Ellsworth and Caribou are basically neck-and-neck for the 2/3 seeds. So in terms of seeding, this doesn't mean all that much. Both these teams will be on the same side of the bracket and this very likely could be a semifinal matchup in Bangor.

As far as the game itself, Ellsworth can get BUCKETS. They're 3rd in the state in scoring and have yet to be held under 55 points and have only once been held under 70 in 2023. They've won 7 straight, with their last loss coming to...Caribou.
Caribou had won 6 straight before losing to MDI last night. They can score, just not at the heights of Ellsworth. They have played a tougher schedule.
Both teams are on the 2nd half of a back-to-back and presumably Ellsworth stayed in the county after playing at Presque Isle last night, which should lessen Caribou's home court advantage a little bit.
WHOU will be streaming this one.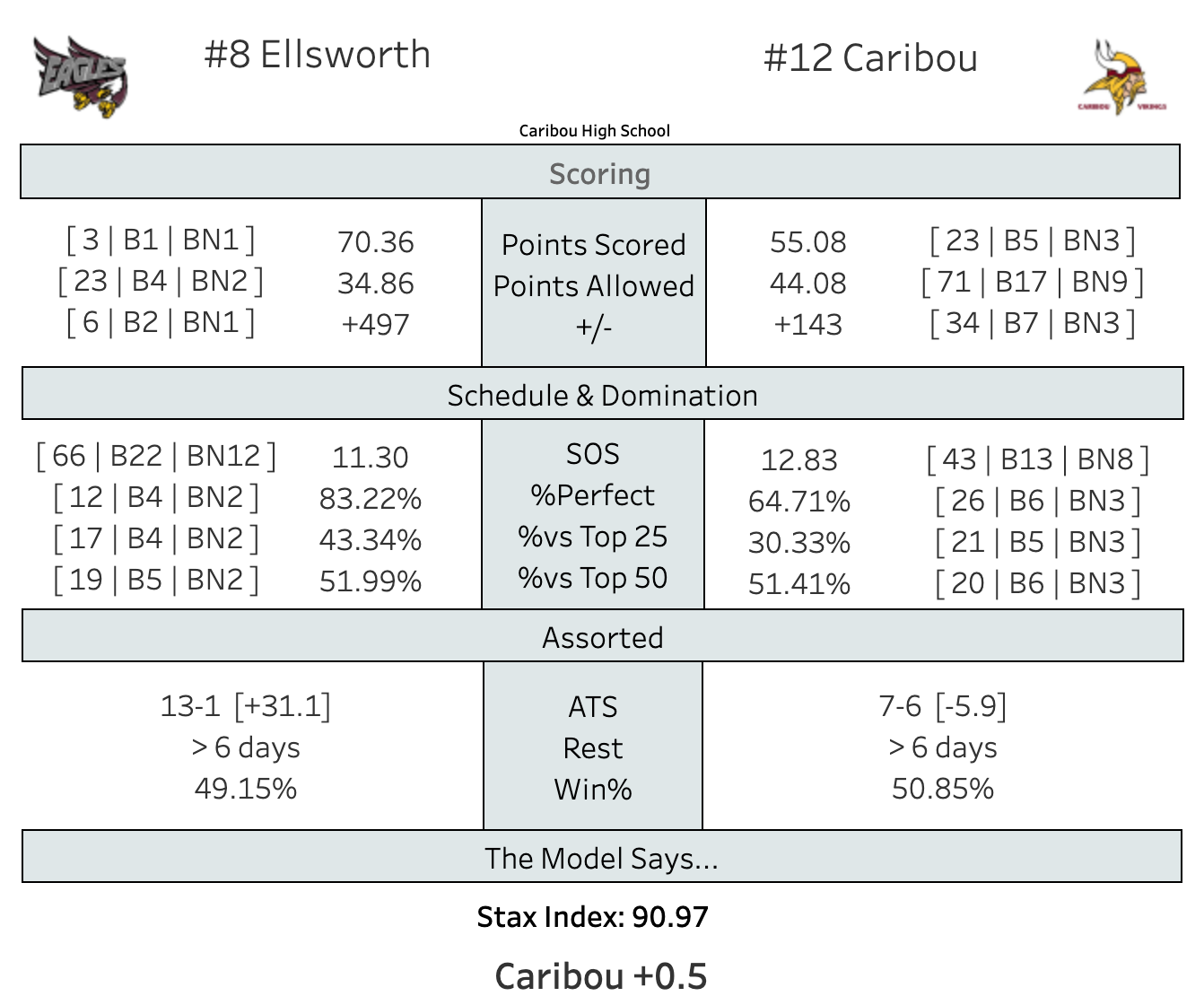 The rest of today's schedule is after the jump.
Boys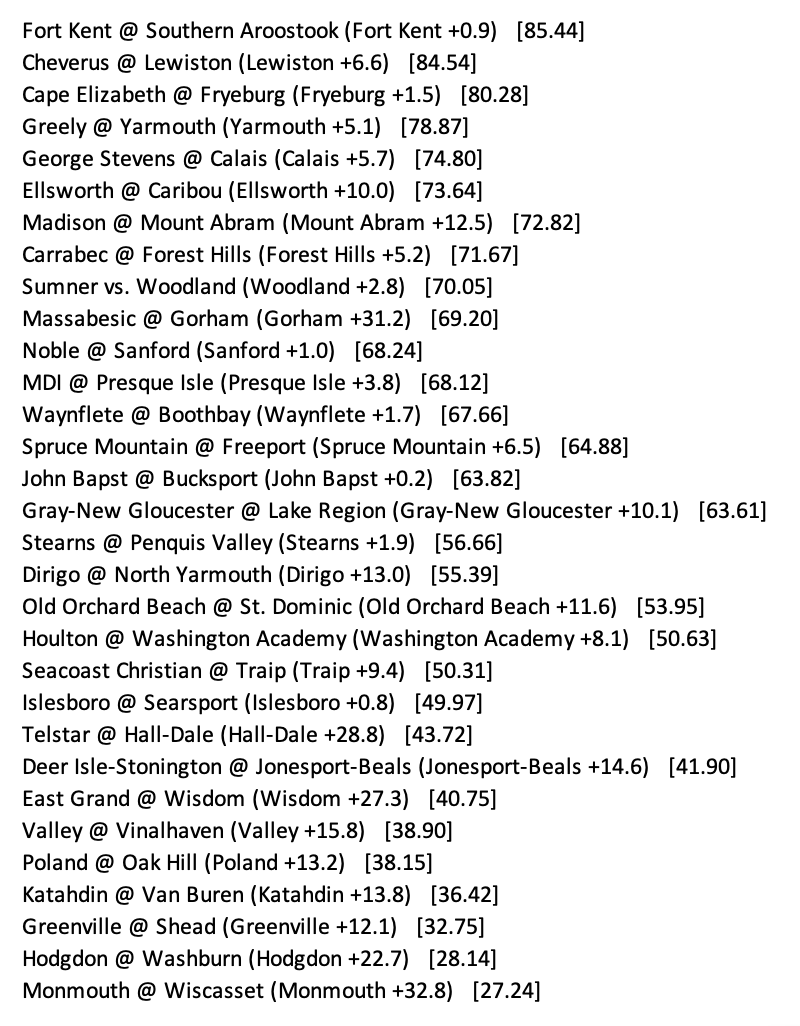 Girls